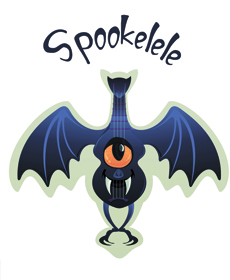 You can find our Spookelele, Halloween Songbook here.
It features:-
Bad Moon Rising – Creedence Clearwater Revival
Rentaghost – Michael Staniforth
Time Warp – Rocky Horror Picture Show
Devil in Disguise – Elvis Presley
Psycho Killer – Talking Heads
The Monster Mash – Bobby "Boris" Pickett
Abracadabra – Steve Miller Band
Spirit in the Sky – Norman Greenbaum
Ghost Riders in the Sky – Stan Jones
Black Magic Woman – Fleetwood Mac
Sympathy for the Devil – The Rolling Stones
Scooby Doo – Matthew Sweet
Down at Devil Gate Drive – Suzi Quatro
Werewolves of London – Warren Zevon
Don't Fear the Reaper – Blue Oyster Cult
Bat Out Of Hell – Meatloaf
There's a Ghost In My House – R. Dean Taylor
Bela Lagosi's Dead – Bauhaus
Thriller – Michael Jackson
Ghostbusters – Ray Parker Juniot
Friend of the Devil – Grateful Dead
Spooky – Dusty Spingfield
The adams family – Vic Muzzy
Love potion #9 – The Clovers
Strange brew – Cream
You can listen to the Spotify playlist here. Or watch the playlist on YouTube.