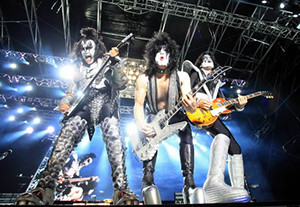 My favourite is from one of the first LP's I had, you could call it a gift from my brother in law but the truth is he wanted rid of it. Why, I can't imagine. The song is track 1 one on side 1. It starts with a breakfast news bulletin on the radio announcing a car crash the night before……this is also the song that broke my Dansette through the raw power of electric guitars, the middle eight a bridge too far for the last flakes of crumbling solder on the corroded pickup…..it can be none other than Detroit Rock City. C'mon! And as the line says, it comes on strong.
That C5 chord at the start is a Proper Power Chord, octave C and doubled up G. The doubled up G rings through into the Eb chord that follows, and that drone drives the thing along. Enter Sandman starts the same way but then it just gets silly, instead of hitting the road.
Mind you, if Kiss were European and hitting 95 km/h, well that'd be different. So the arrangement is spot on, everybody gets going, body parts move in time to a simple rhythm and we get to sing in shouty voices. Perfect. One last thing, the Dansette was already done for really, the motor burned out and the turntable buckled. It's now resting in the great record hop in the sky that some call Lifford Lane.
Tim
You can have a go at playing this yourself by looking at the chords, unfortunately you can't listen to us having a go at it. It's odd we play it every week but don't have a copy of it anywhere. We'll work on that.