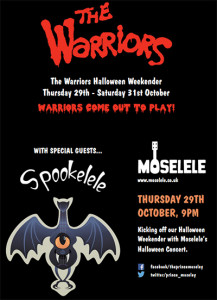 We've got yet another sing-a-long to add to your calendar. Yes, we've got Summer covered and you know that Christmas only really begins when we get you to sing all of those Christmas classics. Now we're going to make you sing a ridiculous number of spooky tunes, all in fancy dress. On Thursday 29th October we'll be in the beer garden of the Prince of Wales making you sing such classics as:-
Monster Mash
The Theme to the Adams Family
Bark at the Moon
Bat out of Hell
Terrifying isn't it?
We'll be starting at 9pm and it will be the usual deal where we give you the words and you just join in when you're drunk enough. If you can't wait until the 29th you can download your own copy of the book and make a start singing now.
If you want to share a Facebook event with your friends then you can share this one on The Prince's Facebook Page.
See you on the 29th.