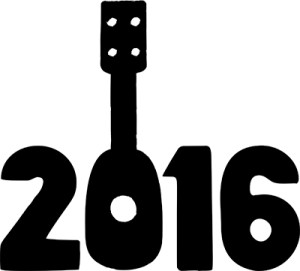 For some reason we completely forgot a Merry Christmas post. With the run up to Christmas being as busy as it was we had loads to do with putting out a new Christmas Book, playing lots of new songs to a room full of Santas and having the biggest Christmas Sing-a-Long we've ever had.
We need to say a big thank you to everyone that came to The Prince on the 22nd December to sing in Christmas. It was mayhem but a sort of organised mayhem. Thanks.
It wasn't the busiest year for us as we had to cut down gigs after losing quite a few key singers. We did manage to hold three sing-a-longs throwing in the weird prospect of trying to find two hours of Halloween songs to sing with people.
We put out a new book of songs in February including many songs that really shouldn't work on the Ukulele but once again we've managed to prove that this little instrument is better then the tired old repertoire of Formby. We're well on the way to releasing our seventh book of songs which should be available in six weeks time.
2015 was also the year that we ended up selling more ukuleles than we ever imagined to every corner of the planet. If you ended up with a Moselele Ukulele and are wondering about coming along to join us then please do. There is a bit of a learning curve but just play the chords you know when they come round and you'll be surprised how quickly you begin to pick it up.
Actually as a general call out we're always on the look out for people who can sing to come and join us. Generally the ukulele playing is a bit of an irrelevance but if we could get a few more singers involved we could get back to doing some gigs again.
Thanks to everyone who supported us last year and hello to all the people we hope to meet this year.