And we're up to 20 Meet Moselele posts. Wooo… it's a score. And who are we scoring with today? It's Ian J!
Most people start playing the ukulele for a bit of fun. Not Ian.
1) Tell us how you started playing the ukulele. (How long ago? Did you play other instruments before?)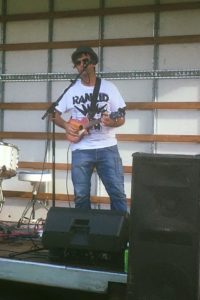 I started playing the uke at Christmas when someone challenged me to play an instrument I had never played at an open mic night.
I have played the guitar since I was a kid.
2) What uke(s) do you play? (Have you made any adjustments/personalised it? Do you use a plectrum?)
I have an electro uke made by Epiphone. I have an Epiphone acoustic and semi-acoustic guitar and so wanted to keep it in the family. I needed the electro version so I could amplify it for an open mic night.
3) Do you remember your first Moselele? (What prompted you to come along? What were your first impressions?)
My first visit was to Snowselele, where I was amazed by the sheer power and atmosphere. I sent Daz a request to join the [Facebook] group and came along to the first meeting in January, and have only missed one since then. I found it a little intimidating for the first 20 mins or so because I couldn't gauge if I was really up to being there (technically) [he was, of course –Ed], but soon found the friendliness to folks around me made me feel really comfortable.
4) What keeps you coming back to Moselele?
Practice, the banter, taking part in a 'team' activity.
5) What's your favourite Moselele song?
Istanbul (Not Constantinople) (it's so much fun) and Kiss From a Rose (it sounds great).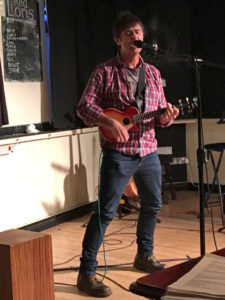 6) What's your usual Moselele tipple?
A pint of Plum Porter or a Blue Moon
7) Do you practise at home? (What do your family/housemates/pets think?)
Yes I do practise at home. My girlfriend plays the fiddle and my kids play the guitar so they can't complain really.
8) What's your favourite Moselele story/memory (so far)?
The birthday celebration and the dice throwing were cool, the near throwing up by a 'guest' last week could have easily jumped to the top of the pile … glad it didn't.
9) What would you say to anyone thinking of joining?
Open your mind and your mouth and get down!!
10) Tell us a secret.
I played in a band that supported Screaming Lord Sutch.
And if you're wondering whether Ian ever did an open mic night… well, the photos should be a clue, but you'll have to join the Moselele Facebook group to watch the video!
Read previous Meet Moselele posts
Those we have loved and lost… and those who keep coming back for more. The crazy fools.
Meet Moselele: #19 – Peter H
Meet Moselele: #18 – Fiona C
Meet Moselele: #17 – Stephen P
Meet Moselele Takeover: #16 – Emma W
Meet Moselele: #15 – Sarah A
Meet Moselele: #14 – Tom H
Meet Moselele: #13 – Bob J
Meet Moselele: #12 – Conor C
Meet Moselele: #11 – Scott C
Meet Moselele: #10 – Paul P-D
Meet Moselele: #9 – Dave T
Meet Moselele: #8 – Lorna P
Meet Moselele: #7 – Phil B
Meet Moselele: #6 – Daz W
Meet Moselele: #5 – Mark S
Meet Moselele: #4 – Rhiannon D
Meet Moselele: #3 – John R
Meet Moselele: #2 – Ian E
Meet Moselele: #1 – Rob P