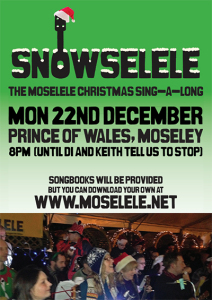 On Monday 22nd we'll be hosting our world famous Christmas sing-a-long (world famous across the B13 post code). If you've not been to this then you should do, it's the very start of Christmas.
This will be our 4th Christmas sing-a-long and every year it has got bigger and bigger.  Basically we just sit in the heated beer garden of the Prince of Wales and play Christmas songs and get all of you to join. If you don't know the words then we supply them and then it just goes on from there. Fair enough, on the face of it that does sound a bit rubbish but it;s a Christmas experience like no other.
If you want to get a headstart and practice your singing you can find a copy of the all the words here www.moselele.net
This all kicks off at 8:00pm and goes on until the pub closes. Try and get there early as we've literally hundreds of people turn up in past years.