What's this? Another blog post? Is this some kind of new year's resolution or something? Well, yes. This is the first in a new series for 2014: Meet Moselele.
Rob P was the first Moselele regular to answer all of our questions, so he has the honour of being the first member featured. OK… GO!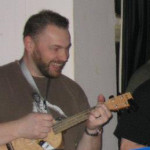 1) Tell us how you started playing the ukulele. (How long ago? Did you play other instruments before?)
My daughter asked for a ukulele, so we went to Hobgoblin. I get easily excited by various things and get convinced that I need "stuff"! I thought they were really good value, and ended up buying myself an Ashbury which was about £50. It was in the summer of 2012 I think. I had an electric guitar when I was about 14 for a bit and only ever learned how to play Batman, a bit of the House of the rising Sun and not much else!!
2) What uke(s) do you play? (Have you made any adjustments/personalised it? Do you use a plectrum?)
Yes I use a Jim Dunlop .38mm plectrum. I don't feel that I get the right contact with just fingers and just doesn't feel comfortable for me. This plectrum is the thinnest I have found without properly searching and works well for me. As well as the Ashbury I bought first, after deciding I could sort of play it and was enjoying it, I decided I "needed" a better uke. I had always lusted after a Gretsch 6120 that Brian Setzer of the Stray Cats used to play as I was quite in to Psychobilly and Rockabilly music in my teens. Quite handy that they are much cheaper than guitars, so I got a Gretsch tenor ukulele and have fitted it with a low G set up, with Worth strings, and fitted a strap button. As for my Ashbury, I have a Elvis silhouette sticker on the back because he is the King! I have also filed and sanded the face of it a little as it used to dig into the inside of my right forearm whilst playing it. I also have a concert Moselele Bambookelele too which is standard and brilliant quality!
3) Do you remember your first Moselele? (What prompted you to come along? What were your first impressions?)
It was the week after buying the Ashbury after finding out about Moselele on the internet whilst searching youtube about how to tune it!! I liked the idea that people are encouraged to just come along with a ukulele and play the one chord that you can when it comes around in the song. The best thing ever as a way not to put people off coming. There's nothing worse than feeling self-conscious because you're not as good as everybody else, but we all have to start somewhere, and everybody in the group recognises that very well.
4) What keeps you coming back to Moselele?
It's so much fun, the more you drink the better you get (?!) I like being there and just having a few hours out of life, where you forget about all of the other things life brings. Some times I just find that all of a sudden I am able to play the more difficult songs which is very rewarding.
5) What's your favourite Moselele song?
It changes! Delilah at the moment. F*** You was before that. I also like playing A Little Respect by Erasure, but that's a secret!
6) What's your usual Moselele tipple?
Five pints of Guinness
7) Do you practise at home? (What do your family/housemates/pets think?)
Not that much in fairness, and that's one of the reasons I like going to Moselele, although I do have a bit of a sing-song to myself every now and then. It's very embarrassing when one of the kids videos it without me knowing!
8) What's your favourite Moselele story/memory (so far)?
The sing-alongs at the POW are just probably the most fun I have (apart from competing in cars – but it's very close!) The Christmas one is so brilliant, because hundreds of people let themselves go and just have a great traditional sing song. Brilliant.
I also nearly wet myself at the Valefest as I was already bursting when we went on stage. It was close and very uncomfortable! I did consider rolling under the side of the tent, but thought somebody might have thought I had collapsed, or the sides of the marquee would be pegged down and I would be left lying on the floor by the side of the stage wondering what to do next!
9) What would you say to anyone thinking of joining?
Join. You will be made to feel welcome and will pick it up faster than you think. You will also meet some very nice people.
10) Tell us a secret.
I bought a buskers kazoo holder that sits on your neck so that I could do the kazoo solo in Delilah with myself at home!!