For Phil B, this week's interviewee, the ukulele has become something of an addiction. Now he can't go anywhere without one – and he goes to a LOT of places…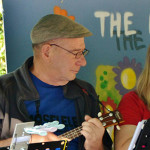 1) Tell us how you started playing the ukulele. (How long ago? Did you play other instruments before?)
I was watching BBC4 one night and on came a programme which everyone must have seen: Frank Skinner on George Formby. At this point I feel I must say that, as much as I admire George Formby as a musician, he is not my cup of tea at all – but I do enjoy Frank Skinner's humour. After watching the programme, I thought the Mighty Ukulele may be just what I'm looking for.
A few years ago (2009), I was taken very seriously ill and was given just weeks to live. I had no idea anything was wrong, so as you can imagine this news came as a massive shock to us all. But, after a year of very intensive treatments with some extremely nasty experimental drugs and the total dedication of the wonderful people at the NHS, I am still here to tell the tale. The drugs and treatments left me with a quite few small problems but I'm not moaning – I'm a very, very lucky man, I know that. One problem was some loss of sensation and movement in my fingers due to nerve and muscle damage and (this bit will come as no surprise to some of you) I lost some of my mental abilities, such as the ability to be able to process information quickly. So I was looking around for something to stimulate my brain and work the hands.
As far back as I can remember, I had always had a very keen interest in music of all kinds, and over the years I have had links with the business in many different ways, but I had never played anything before the uke. I wasn't sure if I would be able to play, so I decided to buy a cheap one off eBay and see how I got on. I bought my first ukulele for £18 in November 2012 and at the age of 64 I embarked on this new adventure into the world of the ukulele.
The first thing I did was to get on YouTube and find out how to tune it and from that day I have never looked back. I wouldn't say I can play yet but I can bash out a few tunes and my ukulele has opened up a whole new world of fun, friendships and opportunities for me (I am playing at the "Cavern" in Liverpool in March). I love one and take one everywhere with me.
2) What uke(s) do you play? (Have you made any adjustments/personalised it? Do you use a plectrum?)
Since my first cheap uke (which didn't last long), it has been a steep learning curve for me trying to learn more about this wonderful instrument. I have bought several different kinds of ukuleles.
The one I play most is an Ohama SK-10S (soprano). I also have a Jin Kun UK-23, which is a Chinese Zebra wood soprano; I play it from time to time and it's not a bad sound, but a bit dull. I also have a Lanikai LK-21C which is a concert – I like it a lot; a Lanikai O-8 which is an 8 string tenor (great for the Eagles songs) and finally an iUke mini piccolo uke which just fits in the top box on my Honda 650, so it's great for taking to biker rallies.
I have altered the action on a couple of them and I fit Aquila strings to everything.
I built a cigar box uke, which didn't sound too bad, but my neighbour pinched it off me so, at the moment, I'm building myself another one (just for fun).
I personally don't normally use a plectrum, I prefer not to. Sometimes I will use a Nylon 46mm, which is very thin and flexible, on the 8 string. It does give it a very bright sound.
Oh and my first uke is now a clock, sitting proudly in our front room (waste not want not).
3) Do you remember your first Moselele? (What prompted you to come along? What were your first impressions?)
Over the Christmas of 2012 I was chatting to a friend, Sam Minnear (the drummer with "Mistys Big Adventure"), who asked how I was getting on with my new uke. He told me he thought there was a merry band of ukulele players who met in the Prince of Wales. So I called into the pub and sorted out the next Moselele night and went along.
I had no idea what Moselele was all about so I just turned up with my little ukulele in my hand and a few basic chords in my head. I remember my first night very well. I was made very welcome and they sorted me out. It was the third Thursday in January 2013. My wife Cath said she'd come along with me to see what it was all about. We stayed for a couple of hours and left. I was buzzing. I found the website, printed off the music and practised like mad. Since that first night I have missed three Thursday nights and I have played at nine concerts. Rob Johnson, John Rushton and Phil Coleman have made me feel like friends and through them I have joined another ukulele group. So thank you Moselele.
4) What keeps you coming back to Moselele?
The people, the friendship, the music, the atmosphere and – being a CAMRA member – the real ales.
5) What's your favourite Moselele song?
I really can't answer that. I don't think I could pick one song. I couldn't even pick one song from each book, there are so many great songs both old and new.
6) What's your usual Moselele tipple?
Any of the real ales but normally "Sad Bastard" (and I'll say in before you do) because I am one.
7) Do you practise at home? (What do your family/housemates/pets think?)
I play every day. My family and friends all take the piss but I don't care; I still play. We had a big garden party last summer with about 130 people and we had live music and real ale all night. Part of that was a ukulele singalong with about 10 players. Since then our daughter-in-law has started playing so I'm helping her a bit. I also now play with two other groups and I never travel anywhere without a ukulele – I'm addicted.
8) What's your favourite Moselele story/memory (so far)?
I don't think I have a story but I loved the concerts in the beer garden at the Prince – last Christmas was amazing. Spookelele was good fun, as was Rude Food.
9) What would you say to anyone thinking of joining?
Just join… but only if you're very small; there's no more room left.
10) Tell us a secret.
I can't tell secrets, that would be wrong. But I guess you want to know something related to music.
So what I will say is this – and I know that in this world of instant communications, upload and download, this will be difficult for many people to comprehend. When I was ten years old (yes, that's just after the Romans had left these shores) I heard the record that kickstarted my interest in music. Even though we didn't have a record player at home, I had to have that record. I saved my pocket money and went to Newtons Record shop in Shirley to order it – you couldn't just buy records like this one, you had to order them. It was a 78rpm record, "That'll Be The Day" by The Crickets. It was the first thing I ever bought. Needless to say, to this day I am a massive Buddy Holly fan.
Since that day I have been an avid collector and consumer of music, going to concerts and buying endless CDs. But now I can play some of this music as well, I get so much more from it. So thank you Moselele for what you have given me.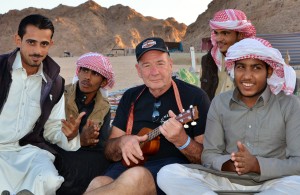 This isn't a secret either, but it's something that not many people will know.
One of my many interests is long distance walking and in the past I have done some climbing. In Peru Cath and I climbed Mount Salcantay (6,271 m/20,574 ft.) from there we trekked the Inca trail before spending a week crossing part of the Amazon. We have also climbed Mount Mawenzi (16893 ft / 5149 m) and Mount Kilimanjaro 19340 ft / 5895 m) in Tanzania.
In Nepal we have trekked the entire Annapurna range crossing the world's highest mountain pass (Thorong La pass 5,416 m/17,769 ft) before descending into one of the world's deepest valley (Kali Gandaki Gorge) and then climbing to the summit of the Annapurna sanctuary (4,130 m/13,550 ft). That particular trip took us 32 days and we covered 500 miles, all on foot.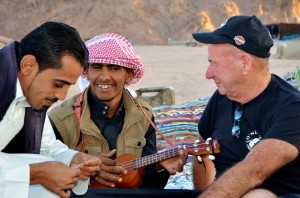 I have also climbed to the summit of Kala Pathar (5545m/18192ft) which stands at the head of the Khumbu ice flow opposite Mount Everest and I have climbed to the south face of Everest (6,400m/21,000ft approx.). Just to give you some perspective, Mount Snowdon is about 1,000m.
Of course, I take the Mighty Uke everywhere I go. Above and right are photos of me and my uke with some Bedouin in the Sinai desert.