After being up since 4am with two teething babies and still making it to last night's Moselele, we thought it was only right that we honour Lorna P this week. Of course, when we say "honour", we mean "make her answer ten silly questions and post pictures of her playing the ukulele all over the internet"…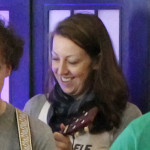 1. Tell us how you started playing the ukulele. (How long ago? Did you play other instruments before?)
My sister Emma bought me one for my birthday three years ago.
I didn't play any instruments before this other than a short spell playing the violin at primary school – I made it to grade 1 and then it all seemed a bit too much like hard work.
I should mention that Emma is a Moselele founder and is married to Daz-from-Moselele so my introduction to the uke was easy… "Happy birthday, here's a uke, see you at the next Moselele." The rest is history.
2. What uke(s) do you play? (Have you made any adjustments/personalised it? Do you use a plectrum?)
I have a Makala tenor ukulele and it's served me well so far. It was a tense day when I decided to drill a hole in the bottom of it to attach a strap button but I find practising at home standing up whilst wearing a strap much more comfortable. I use a felt plectrum most of the time – I'm a nail biter and don't have the ability to make much sound otherwise. It creates a softer sound so for gigs or more noisy Moseleles I tend to use a leather plectrum which is a little louder.
In the privacy of home I sometimes use a small elasticated capo (designed for a banjo) which means I can find the right key for pretty much any song and play along using nice easy chords. It's true what they say about the ukulele leading you onto other instruments – thanks to my love of the uke, I'm now teaching myself to play the guitar.
3. Do you remember your first Moselele? (What prompted you to come along? What were your first impressions?)
I turned up immediately after a works networking event. I was stupidly overdressed and late. If you want to stick out like a sore thumb at Moselele, wear a shift dress, suit jacket and four-inch heels. Despite my lateness, poor choice of clothing and knocking a drink over (sorry Mike!), it was loads of fun and I was made to feel very welcome. At that point I could only play two chords and it didn't matter in the slightest.
4. What keeps you coming back to Moselele?
There's something addictive about sitting in a room of like-minded people just bashing out great songs and singing at the top of your voice. I've not been around much lately (I became a mum to twins in 2013) but I'll be back. I've missed it terribly.
5. What's your favourite Moselele song?
My contribution to songbook 4 was Erasure's A Little Respect. I wasn't around during 2013 when everyone really got the hang of it, but I heard recordings and it made the hair stand up on the back of my neck – it's so enjoyable to play and that really comes across when you hear it. But my favourite all-time Moselele song has to be Bowie's Space Oddity. I'm not a huge David Bowie fan but it's such a great song to play and sing, and it brings back fond memories of when we played the 2012 Jubilee street parties.
6. What's your usual Moselele tipple?
A pint of Tribute… mmmmmmmm… Or if I'm driving, Lime and Soda. I'm always bloody driving.
7. Do you practise at home? (What do your family/housemates/pets think?)
I practise now and again when time allows. I enjoy playing songs from the songbooks but also find great satisfaction in working out the chords for other songs that I like. My children seem to like it when I play and sing to them – I'm pretty sure they'll find it embarrassing eventually so I'm making the most of it now.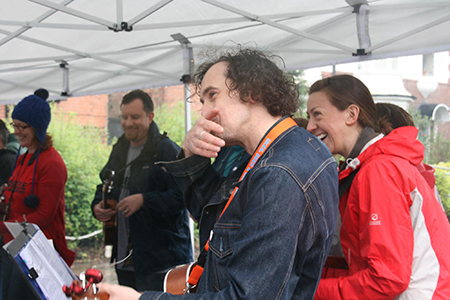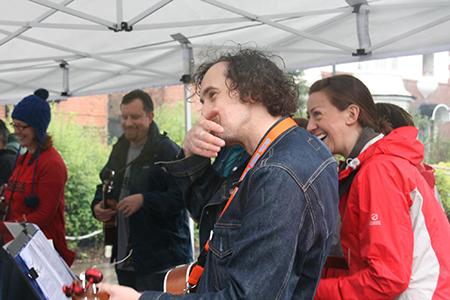 8. What's your favourite Moselele story/memory (so far)?
The day of the 2012 Jubilee street parties. Moselele toured round to four different jubilee events (three street parties and one gig in a pub). Trying to make ourselves heard over the noise of the rain hammering down on the roof of a flimsy gazebo may not sound like everyone's idea of fun but this photo speaks for itself…
9. What would you say to anyone thinking of joining?
Stop thinking about it and just come along. It's impossible to feel self conscious or embarrassed at Moselele so even if you don't think you're very good, you'll be made to feel welcome and you'll immediately improve just by being around other players.
10. Tell us a secret.
I record myself playing and singing at home. Using multi-track software, I make myself sound substantially better than I actually am. Everyone needs to have a dream.