Ten weeks in and the Meet Moselele blog post train is still chuffing along. Choo choo!
This week it's Paul P-D, the man with the silliest surname in pop (or rock, or whatever other genre Moselele comes under… is 'ill-advised covers' a genre? Anyway). You'll know Paul because he's the one who always counts us in. So here we go! A-one, a-two, a-one two three four…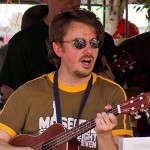 1) Tell us how you started playing the ukulele. (How long ago? Did you play other instruments before?)
I've played instruments since I was 8. Guitar, piano, recorder, bass, even a little drums. Guitar was my first instrument though and probably the most important to me. I've played uke since I heard about Moselele. I joined in the fun during the spring of its first year, just under four years ago.
2) What uke(s) do you play? (Have you made any adjustments/personalised it? Do you use a plectrum?)
I have a Mahalo Les Paul style uke (Soprano size) which cost me around £45 and I later bought a Lanikai LU-22TS I picked up online for around £90 from Omega Music in Cumbria. They were good enough to include a pencil drawing of a dinosaur (see below for the full story). I started with felt picks but now play with a 0.73 gauge standard Jim Dunlop guitar plectrum, for extra sound.
3) Do you remember your first Moselele? (What prompted you to come along? What were your first impressions?)
Friends Matt and Liz told me Moselele was happening but really it was because it was a chance to see Emma again that I went. She and I went to the same school and so hadn't seen each other since leaving nearly, umm, three years earlier (see what I did there, Em?). I recall thinking everyone was very welcoming and friendly, except for that Ian chap who was far too over-bearing and weird!
4) What keeps you coming back to Moselele?
The social element of Moselele is very important to me but it never ceases to amaze me what is possible with such a silly tiny instrument and a group of very committed and passionate people. Nights like the Summer and Winter singalongs in the beer garden constantly baffle me as I try to work out why on earth people go nuts for what we do. I've stopped being modest now though. Clearly, we are very brilliant.
5) What's your favourite Moselele song?
Tough question. So many to choose from. For different reasons and on any night it might be Bohemian Like You, Psycho Killer, Space Oddity, Blister In The Sun, or Echo Beach… Keep an eye out in Book 5 though for Add It Up – that was a real surprise from the Rude Food gig last year.
6) What's your usual Moselele tipple?
Ale in the colder nights, cider in the summer. If I've not eaten beforehand, it's a Guinness!
7) Do you practise at home? (What do your family/housemates/pets think?)
I'm always playing my uke and working out new songs. I keep the Les Paul at work and find a quiet room even on occasions. My family are very understanding and suffer it, but I often see them enjoying what I play, especially when it's something off book and Esther says "Was that The Prodigy???"
8) What's your favourite Moselele story/memory (so far)?
It never fails to amuse me when I see Ian T Edwards nearing the bottom of his beer to see a plectrum has been cast into his pint . . . He and I do tend to lark about and prank each other but it's done with a lot of affection really. Until he sticks his kazoo in my cider, then tells me it's my kazoo! So I'll then wear his Christmas jumper when he nips to the bar. And he'll nick my wallet by the end of the night. Never a winner to that game…
9) What would you say to anyone thinking of joining?
"The saddest thing in life is wasted talent!" Playing an instrument alone will get you only so far. Playing with other people brings you on in leaps and bounds. Playing in a pub means there's also beer so you don't care how you sound after a jar or two. Playing a tiny instrument in an undersized room with the most diverse bunch of sexy people Moseley has to offer should not be feared at all. Don't waste what talent you have, bring it along. You never know, you might like it!
10) Tell us a secret.
I dreamt we were asked to play a small stage at Glastonbury and we were on just before Chas and Dave. Daz didn't like that we were going to open with Rabbit as he thought that was encroaching on their set list but more that we'd be seen as some sort of novelty act. Ian couldn't stop laughing on stage. And Stephen Perrin stage dived with his uke towards the end of the gig (Mr Brightside, obviously). The crowd loved us and one of my dreams to play a big festival for that moment at least came true. I then woke up, a bit sad that I'd dreamt it all . . . A few days later we played Valefest at Bham Uni. It wasn't quite the same. Close though.