Thirteen Meet Moseleles already! Thirteen might be unlucky for some, but not for us: this week's Moselele regular is Bob J, or "Bob the 'Bone", as he was known in his youth. (Probably. We'd like to think so, anyway.)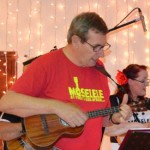 1) Tell us how you started playing the ukulele. (How long ago? Did you play other instruments before?)
I played most brass instruments at school but settled on the trombone. The music lessons I had at school are proving very useful now, for my sense of timing, etc. I continued playing the trombone into my twenties. Fast girls and motorbikes curtailed my trombone playing. Leap forward forty-plus years and I was bought a trombone for my sixty-fifth birthday. Now I find that the girls aren't so fast but the motorcycles are faster still. I currently have four motorcycles.
I was made redundant from teaching and with time on my hands I was looking for an instrument to take up. I was introduced to a ukulele club by an ex-work colleague in August 2012. It was here I met John R who introduced me to Moselele.
2) What uke(s) do you play? (Have you made any adjustments/personalised it? Do you use a plectrum?)
I have three ukes: Kala Soprano, Moselele Concert and a Kala Tenor.
I did change the 'high g' string on the tenor to a wire wound 'low g' but this didn't last too long after the sweat and beer fumes at The Prince attacked it and it broke.
Why wouldn't you use a plectrum? I did strum using my fingers when I first started but I wore my finger nail down and it became infected. Since then I have always used a plectrum.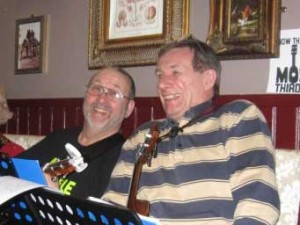 3) Do you remember your first Moselele? (What prompted you to come along? What were your first impressions?)
John and I will always remember our first Moselele. We were given a Christmas hat to wear at the Christmas sing-along.
I thought the Moselele practice was going to last about an hour or so. Three hours later and we are still going strong. I remember saying to John, "This can't go on much longer, surely…?" It did!!
I remember driving home at almost midnight unable to hold the steering wheel correctly because my fingers were tingling. I turned the radio off because my head was ringing. The co-ordination between clutch and accelerator pedals was almost non-existent because my feet were tapping to the tunes still playing in my head. It was a wonderful evening, one that John and I will treasure.
4) What keeps you coming back to Moselele?
Ian's scratchings. Daz's jokes, Paul's energy and the company of a great group of people, many of whom are much, much younger than myself.
I like the uncertainty of not knowing which songs we are going to play. Sometimes we play a song that to me just doesn't sound right, or it may be a song that I just do not like. Then we play a song and we absolutely nail it. And for those two or three minutes I am Roger Daltrey or Meatloaf or Kylie.
5) What's your favourite Moselele song?
Teenage Kicks … Bat out of Hell … London Calling.
6) What's your usual Moselele tipple?
Sad Bastard.
7) Do you practise at home?
Every day for at least fifteen minutes. I am sixty five years old and realise I cannot live long enough to learn all of the five Moselele song books so I am playing catch-up.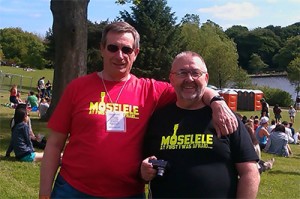 8) What's your favourite Moselele story/memory (so far)?
There is no particular story or memory that I could use to portray how I feel about Moselele. There have been too many wonderful moments. Looking back to when I first joined it was like stepping in to the fast lane of the M6 motorway and being swept along at a pace I had no control over. That first night is burnt into my cerebral.
The gigs we have played. The singing, cheering and shouting at the summer and winter performances at The Prince. Long may it continue.
9) What would you say to anyone thinking of joining?
Buy a uke and get to know it first. Hold it, feel it, tune it and learn one or two easy chords. Download all five song books. Join us at The Prince and if it is all too much for you at the beginning just sit and listen whilst drinking beer.
Practise every day. To get maximum enjoyment from Moselele you have got to be dedicated and practise.
10) Tell us a secret.
My mother received a letter from Buckingham Palace about me.