You thought we'd run out of Meet Moselele posts, didn't you? Well, so had I, to be honest. And then Sarah A reminded me that she'd sent hers in ages ago and I'd forgotten all about it. (Really sorry, Sarah.)
Luckily for us, it was worth the wait!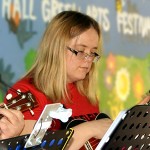 1) Tell us how you started playing the ukulele. (How long ago? Did you play other instruments before?)
I had seen photos of Moselele on the Prince's Facebook page and thought it looked good.
I moved to Moseley in early 2012. Around the same time, I joined a social group called Spice and one of their events was "Ukulele for Beginners", held at the mac. It was the quickest two hours of my life and I didn't want it to end! After the event was finished I ran all the up the hill to the Prince and asked when the ukulele group was on. The staff looked very confused and said that there WAS a ukulele group but they couldn't remember when it was. So I ran home and googled "ukulele group Moseley" which solved the problem.
I played the guitar when I was younger but hadn't touched it in years.
2) What uke(s) do you play? (Have you made any adjustments/personalised it? Do you use a plectrum?)
The first uke I bought was from Argos. It was absolutely rubbish and sounded like a guitar falling over when I strummed it (yes it was in tune).
I then bought a Kala soprano uke which was good and I was shocked when I first played something on it that sounded vaguely like it was supposed to! Unfortunately my cat attacked it and it's not been the same since; always sounds a bit "not quite right" (to me at least).
I now use a mock "Les Paul" soprano uke made by Mahalo which is great and I'm saving up for a concert uke.
I mostly don't use a plectrum, but I'm thinking about using one – more for gigs when we need to be loud.
3) Do you remember your first Moselele? (What prompted you to come along? What were your first impressions?)
As above – I was so excited after my lesson, I wanted to carry on playing. I remember being surprised to see two people I knew when I walked in (including a Spice member who had also been at the lesson – I wonder what happened to her?).
I also remember feeling welcome and not having to worry about not knowing what I was doing and being told to "wait for the Cs to come round". Useful advice.
4) What keeps you coming back to Moselele?
It's such a laugh! The people. The gigs. I never dreamt that I would have the opportunity to perform on TV, at the Hare and Hounds, make a video, etc, etc.
When I was considering moving away for work last year, not being able to attend Moselele was a consideration.
5) What's your favourite Moselele song?
Dunno. I suppose Africa, Hotel Yorba and Echo Beach would be on the shortlist.
6) What's your usual Moselele tipple?
First hour I try and be good and have a soft drink. Second hour: beer of some description. Third hour: I've usually gone by then, but if not – beer!
7) Do you practise at home? (What do your family/housemates/pets think?)
I do. The cat's used to it now, although he looks vaguely alarmed if I use my kazoo. He ran for his life the first time I used it.
When I was rehearsing for the video I did hear the upstairs neighbours singing "FEEEEED THE WORRRLD!" a few times…
8) What's your favourite Moselele story/memory (so far)?
A hard question because there have been quite a few gigs, such as the Children in Need one, beer garden gigs and the recent one at The Loft. Also making the Band Aid video was great.
9) What would you say to anyone thinking of joining?
Go for it!
10) Tell us a secret.
I attend a mini music festival run by Martyn Joseph, called Pipefest, every September. For the last few years there has been an open mic the night before the main event. The first year, I hadn't been near a uke so I just watched, but for the last two years I have shouted some 80s songs at some folkies, who have been more impressed than they probably should have been. I was startled last year to be told that two of the attendees the year before had taken up the uke after seeing me play at the open mic. Two more said they were going to get one after seeing me play this year. I'm not used to be being influential 🙂