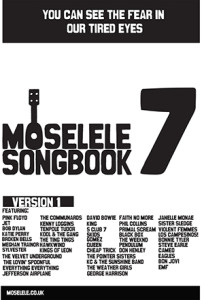 We're pleased to say we've gone and completed our seventh book of songs. It's got a really wide range of songs in, most you won't find anywhere else. We know this because we tried to find them and they were nowhere to be seen.
It's got loads of stuff in there that's fun to play. There's a bit of Everything Everything, our now annual go at a Violent Femmes song, the obvious Bowie contributions as well as Faith No More and Pendulum. We've tried to fill in our disco gaps with varying success  and we seem to be developing a weird obsession with the Weather Girls. What can go wrong with that?
You can head straight over to Book 7's dedicated page  or you can just cut out the middle man and download it here.
As usual we've created a Spotify Playlist with all of the songs on. Because this seems to be a thing there is also an Apple Music playlist. It's well worth a listen as it's unlikely that many people will be familiar with every song in it. We're not and we put the thing together.
Thanks to everyone who contributed songs. As in other years there were many more submissions than we had room for so some did get left out.
We've put together a Youtube playlist, if you've got a spare three hours you can watch videos of every song we've put together.