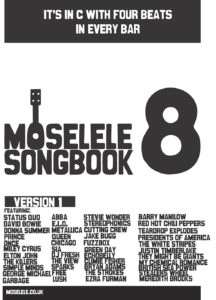 We're really pleased that we have finished our eighth book of songs. It's taken a few months to put together but it's an epic book. As always, we've done all of the songs from scratch and, where possible, matched each song to the original so it's easier to figure out how to play them.
This year we've kept up the focus on recent songs but also have a fair wack  of the 80s in there.
We've got songs by Garbage, George Michael, DNCE, DJ Fresh and Ezra Furman. It's quite a range of songs.
Feel free to download it from here or go to the songbooks page.
As there are quite a few songs in the book that people might not know, we've also put together a Spotify playlist with almost every song on it.
Have fun with it and let us know how you get on.