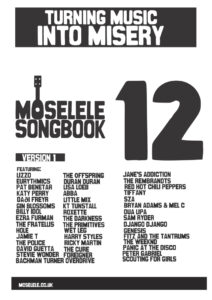 We've made a new book of songs. This is the first one we have managed to make since 2020 when all the bad stuff happened. We've tried to maintain a thematic consistency with our other books so we have called this one Songbook 12. This follows on from Songbook 11. We hope this will reassure people of where this book sits within the complex Moselele infrastructure.
As you would expect you can download it. It has its very own page on this site. We've also made a playlist which lives on Spotify. If you don't know the songs then listening to them is probably the best way of sorting them out.
As with all of our songbooks we've done our best to keep all the songs in the original key. It's the way they were written and what right do we have to adapt art to fit into a tiny guitar?
All of the songs are also available in our song database. You won't be surprised to hear that they are easier to find if you filter for book 12 songs. 
We think there are loads of classics in here but we're particularly pleased to see Harry Styles and Dua Lipa popping in. We've also got a bit of a nod to recent Eurovision history and a bit of Bachman Turner Overdrive for the old men. 
We've had fun (mostly) making this book and we hope you have fun playing the songs. Let us know which ones you like.