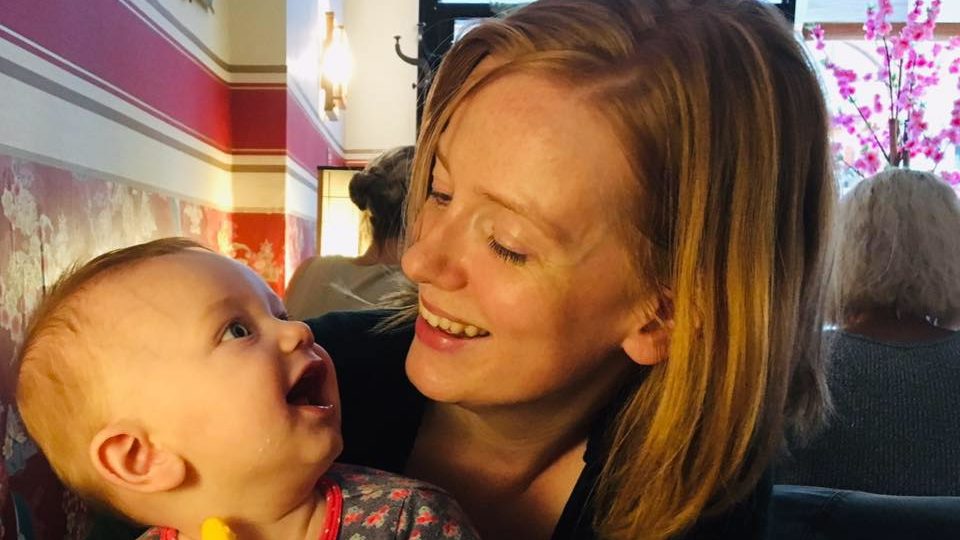 So here we are at 21 Meet Moseleles. Twenty one!
And it's the turn of lovely Katie, who managed to type up the answers to all these questions from her phone in the middle of the night whilst holding a sleeping baby. Awwwww…
---
1) Tell us how you started playing the ukulele. (How long ago? Did you play other instruments before?)
The first time I touched a ukulele was at my first Moselele session. Someone bought a spare along for me. I would pick one chord per song and just play that whenever it came around.
That was around four years ago and I'm still a terrible player, but I do it with blagged confidence now. I played piano for a couple of years as a teenager but other than that I'd mainly only done singing stuff before.
2) What uke(s) do you play? (Have you made any adjustments/personalised it? Do you use a plectrum?)
To be completely honest, I didn't really realise that there were different types of ukulele until I read this. I think I have a… normal one? I stuck some flower stickers I had on it so I could tell which one was mine. Now it looks like it belongs to a particularly dodgy country music singer.
3) Do you remember your first Moselele? (What prompted you to come along? What were your first impressions?)
I'd heard Moselele playing when I was in the Prince one Thursday and thought it looked really fun but didn't know how to go about joining and wasn't sure I had the time. Three years later I bumped into a friend of a friend who went and who persuaded me to go along. I was really nervous walking into the room and felt self conscious that I clearly had absolutely no idea how to play, but I absolutely loved it.
4) What keeps you coming back to Moselele?
It's so much fun! I love being able to sing and play music with other people in a very low pressure and relaxed environment- if you can't play there are enough people who can so you getting it wrong doesn't matter. If I can't make it every week no one is going to get annoyed. I love the banter and silliness and the friendships I've developed. I really like the song choices (usually!)
5) What's your favourite Moselele song?
All the ones which really shouldn't work but do (Bat Out Of Hell, Gold Dust, etc.)
6) What's your usual Moselele tipple?
A glass of house white or occasionally a Blue Moon.
7) Do you practise at home? (What do your family/housemates/pets think?)
I have not practised once since I started (sorry Daz!). I do listen to the Spotify playlists, though.
8) What's your favourite Moselele story/memory (so far)?
So many favourite memories: watching Stephen rap 'That's Not My Name' by the Ting Tings, Rhiannon singing Wuthering Heights long after the rest of us had given up, Paul doing his best Prince impression during Kiss. The summer and Christmas singalongs are amazing – watching people dance on tables to music you are playing is a phenomenal feeling.
9) What would you say to anyone thinking of joining?
Come along! Everyone is so welcoming and friendly. It doesn't matter if you can't play.
10) Tell us a secret.
One of my students randomly was at the first summer singalong I did. Afterwards she told me that her friends now thought I was 'really cool'. Ha ha. They also found Ian particularly impressive!
---
Blimey, steady on.
Thanks to Katie for completing our silly questionnaire. If you're a Moselele regular (ie you've been more than once) and you'd like to feature on the blog, let Emma know via the Facebook group.
And if you're not on the Facebook group, why not?! You'll get regular event reminders and have the chance to recommend new songbook choices, as well as gaining exclusive access to a worrying number of terrible musical puns.
Read previous Meet Moselele posts
Those we have loved and lost… and those who keep coming back for more. The crazy fools.
Meet Moselele: #20 – Ian J
Meet Moselele: #19 – Peter H
Meet Moselele: #18 – Fiona C
Meet Moselele: #17 – Stephen P
Meet Moselele Takeover: #16 – Emma W
Meet Moselele: #15 – Sarah A
Meet Moselele: #14 – Tom H
Meet Moselele: #13 – Bob J
Meet Moselele: #12 – Conor C
Meet Moselele: #11 – Scott C
Meet Moselele: #10 – Paul P-D
Meet Moselele: #9 – Dave T
Meet Moselele: #8 – Lorna P
Meet Moselele: #7 – Phil B
Meet Moselele: #6 – Daz W
Meet Moselele: #5 – Mark S
Meet Moselele: #4 – Rhiannon D
Meet Moselele: #3 – John R
Meet Moselele: #2 – Ian E
Meet Moselele: #1 – Rob P