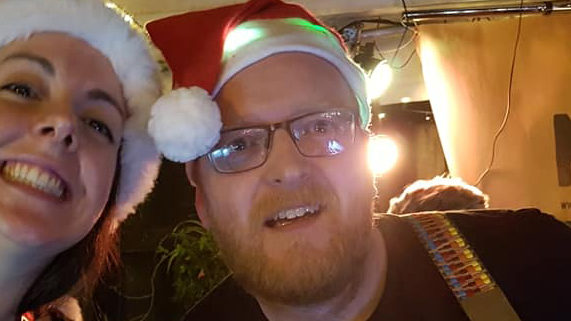 One minute you're watching a ukulele band play in a park, the next you're in a shed behind a pub, knocking back Czech pilsners and bellowing Violent Femmes songs. We've all done it, haven't we?
Meet Garry. He's the quiet one…
---
1) Tell us how you started playing the ukulele. (How long ago? Did you play other instruments before?)
I've played the guitar since I was 12 and was in a few bands during my youth in London. I also had a brief spell as a drummer and I also play the bass guitar. I'd never even attempted to play a uke until I saw Moselele at Highbury Orchard in 2017 and decided that it looked like such fun that I'd like to be a part of it.
2) What uke(s) do you play? (Have you made any adjustments/personalised it? Do you use a plectrum?)
I play a Moselele Bambookulele (tenor). I also have an electro-acoustic one. I can play with either fingers or a plectrum but prefer the plectrum as it's louder and less painful.
3) Do you remember your first Moselele? (What prompted you to come along? What were your first impressions?)
Yes, I remember it. I had been playing for about a week beforehand trying to achieve a level of proficiency to fit in. It turns out that I had to miss large chunks of songs out as I just couldn't keep up! But everyone was friendly and I really enjoyed it.
4) What keeps you coming back to Moselele?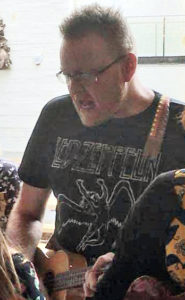 I really enjoy playing the songs, being part of the phenomenal singalongs and being part of "the gigging team". I've made lots of new friends too and I really enjoy meeting up with everyone and bashing out some songs in the bothy. Being part of Moselele has really improved my singing voice too.
5) What's your favourite Moselele song?
I particularly enjoy playing 'Blister in the sun' – especially the last part where everyone comes back in loud again after a couple of quiet verses!
6) What's your usual Moselele tipple?
Usually a pint of Staropramen. Or three.
7) Do you practise at home? (What do your family/housemates/pets think?)
Yes I do practise at home and my daughter and my partner have both been to see us at several gigs. They are often bemused at some of the songs they hear me play on the uke. My daughter recently told me that 'Gold' was her favourite song she's heard us/me play.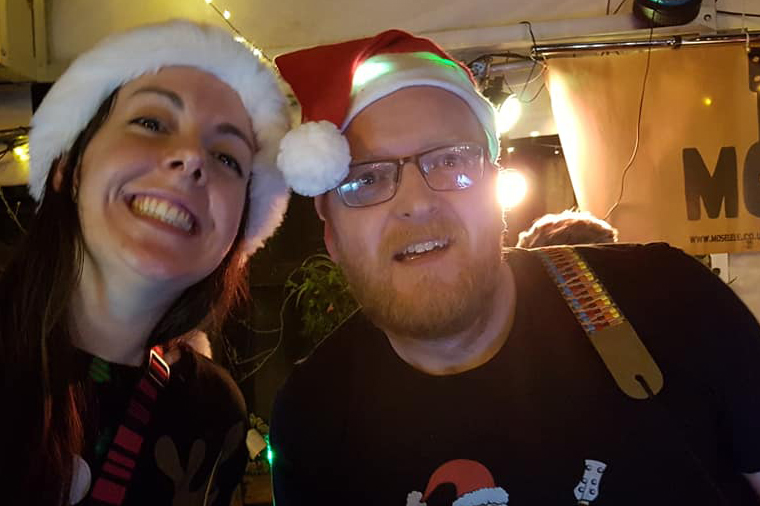 8) What's your favourite Moselele story/memory (so far)?
Probably my first Snowselele back in 2017. I was genuinely blown away by how popular it was and how much everyone seemed to love it!
9) What would you say to anyone thinking of joining?
Don't do it. It's all just a front for a dangerous Satanic cult that you can't escape from. They even make you fill out forms saying how much you enjoy it. [Doh! Busted! –ed]
10) Tell us a secret.
Oh I have many, many secrets but to tell you would be to destroy the air of mystique around me that I've deliberately and carefully crafted over the years.
Oh OK, just one then…I used to play football for the youth team of a London club that are currently in the Premiership.
---
Oooh! Remind us never to play you at keepy-uppy. (I don't really know what that is, but it's a kick-ball term, right?)
Well, that's it for this week – we're running out of Meet Moseleles again now, so if you're part of our dangerous Satanic cult and want to fill out a form saying how much you enjoy it, do let us (Emma) know.
Read previous Meet Moselele posts
Those we have loved and lost… and those who keep coming back for more. The crazy fools.
Meet Moselele: #21 – Katie C
Meet Moselele: #20 – Ian J
Meet Moselele: #19 – Peter H
Meet Moselele: #18 – Fiona C
Meet Moselele: #17 – Stephen P
Meet Moselele Takeover: #16 – Emma W
Meet Moselele: #15 – Sarah A
Meet Moselele: #14 – Tom H
Meet Moselele: #13 – Bob J
Meet Moselele: #12 – Conor C
Meet Moselele: #11 – Scott C
Meet Moselele: #10 – Paul P-D
Meet Moselele: #9 – Dave T
Meet Moselele: #8 – Lorna P
Meet Moselele: #7 – Phil B
Meet Moselele: #6 – Daz W
Meet Moselele: #5 – Mark S
Meet Moselele: #4 – Rhiannon D
Meet Moselele: #3 – John R
Meet Moselele: #2 – Ian E
Meet Moselele: #1 – Rob P