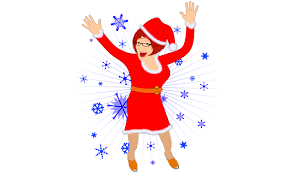 December 5, 2016 | Posted in Gig | By Daz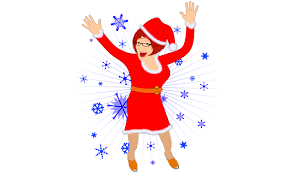 With Christmas bearing down on us like an unstoppable force we thought it might be useful to let you know what our plans are for the next month or so. We've less gigs coming up than we'd usually do at Christmas but what we're lacking in quantity is more than made up with by quality.
We're really pleased to be playing as part of Barbara Nice's Christmas Cracker. This is exciting for us, it's like being professionals. Barbara's show features everything you expect, a tombola, a raffle and mince pies. Oh, and us playing songs on ukuleles.
We're playing at:-
Artrix – 12th December
MAC – 18th December
There are still tickets left but these are likely to sell out.
Lots of people have been asking about our annual Christmas sing-a-long at the Prince of Wales. It's happening, this year it will be Thursday 22nd December. As always, get there early. It really is the busiest night of the year. There is supposed to be some sort of system to stop the place getting overwhelmed this year, we're not sure quite how that works.
If you can't come to see us then remember we've got a whole book of Christmas songs for you to play.
Hopefully we'll see you at one of these things in the next few weeks.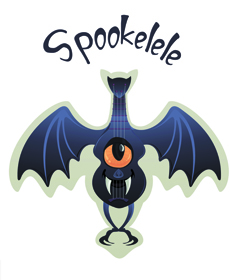 October 24, 2016 | Posted in Gig | By Daz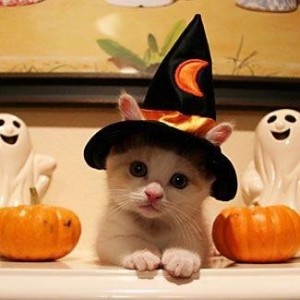 It's the scariest time of  the year. That means we all get to dress up and stand in a pub beer garden whilst you all shout at us.
Yes, it's the Spookelele Sing-a-long on Thursday. We did this last year and it was a great night. Not quite the out of control mayhem of Christmas but a chance to sing some classic Halloween songs and some songs that have only the most tenuous connection with Halloween. To be honest there aren't that many good Halloween songs so we quickly just get back to singing fun songs whilst dressed up.
You can let everyone you know that you're going by clicking on the Prince of Wales' Facebook event. Or you can just turn up. We're starting at 9pm but if you get there a bit earlier you might end up with a seat.
It follows the same old pattern that all our sing-a-longs do, we start off and then just leave it to you to sing-a-long. There will be some printed copies of the words but one of the things we noticed over the years is that it gets a bit dark at night. That helps the spooky atmosphere but doesn't help the ability to read the words. So you can access to the book of words if you go to www.moselele.net on your preferred electronic device.
You don't have to dress up but we'd really appreciate if you did.

October 13, 2016 | Posted in Gig | By Daz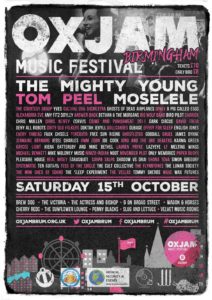 We're really pleased that we're going to be playing at Oxjam Brum on Saturday (15th). This is a great festival. Oxjam take over venues all over Birmingham and for a couple of quid you can get into all of them and see any bands that are on.
We're playing at two venues. We'll be on at Brewdog at 3:15 pm, their first band of the day, and Cherry Reds (the City Centre one) at 9:00pm. At Cherry Reds we're on just before the Dirty Old Folkers who are easily one of Birmingham's most entertaining bands.
If you're about then you should come along, there are over 70 bands taking part this year.
Oh, and all the money raised goes to Oxfam.
You can see times for all the bands and their times on this page. See you on Saturday.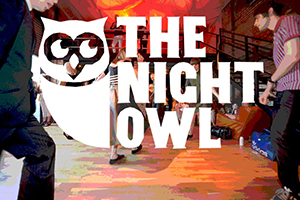 June 7, 2016 | Posted in Gig | By Daz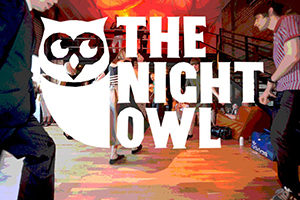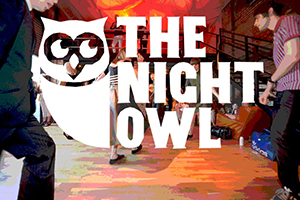 We haven't played a gig in ages. That's about to change.
We'll be playing loads of new songs, and quite a few old ones, at the Night Owl in Digbeth on Sunday the 19th June. There's a Barbecue and it will be sunny and we'll be playing songs largely about Summer.
The afternoon starts from 12 noon (as it does everyday). Come and join us.
You can find out more at the Night Owl's Facebook event.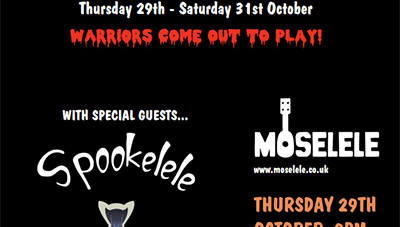 October 20, 2015 | Posted in Gig | By Daz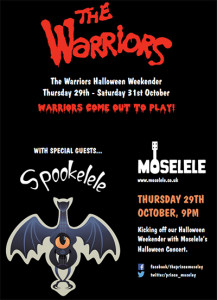 We've got yet another sing-a-long to add to your calendar. Yes, we've got Summer covered and you know that Christmas only really begins when we get you to sing all of those Christmas classics. Now we're going to make you sing a ridiculous number of spooky tunes, all in fancy dress. On Thursday 29th October we'll be in the beer garden of the Prince of Wales making you sing such classics as:-
Monster Mash
The Theme to the Adams Family
Bark at the Moon
Bat out of Hell
Terrifying isn't it?
We'll be starting at 9pm and it will be the usual deal where we give you the words and you just join in when you're drunk enough. If you can't wait until the 29th you can download your own copy of the book and make a start singing now.
If you want to share a Facebook event with your friends then you can share this one on The Prince's Facebook Page.
See you on the 29th.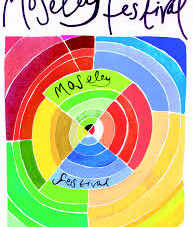 June 30, 2015 | Posted in Gig | By Daz
We're very excited that Moseley Festival is coming up really quickly. We love Moseley Festival as they were the first people to ask us to play a gig for them, even more
strange than that they've asked us to come back every year since. We've had quite a lot of time off gigging recently but we had to do this as it is our favourite gig of the year.
Which is a roundabout way of telling you that we'll be playing on the Village Green this Saturday (4th July) at 12:00pm.
Come along and see us, we've got new songs that are even more inappropriate than the last ones.
As it is Moseley Festival we'll also be hosting our Summer Sing-a-long at the Prince of Wales on Thursday 9th July (8:00pm). This is always an excellent night. We give you the words and we play along whilst you sing-a-long. We keep on going until they call the police. We start at 8 but I'd get there early as this fills up really quickly.
We've got loads of new songs in a sing-a-long book, you can have a sneaky peek here.
It's going to be a busy week but we hope you can come down on both days.
July 15, 2013 | Posted in Gig, Meeting, Other | By Daz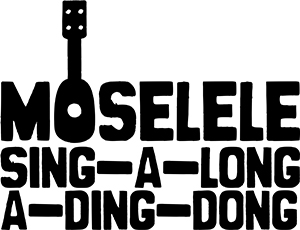 We're still in Moseley Festival so this Thursday (the 18th) we'll be hosting our world famous sing-a-long at The Prince of Wales.
We really like playing a vast range of songs and we realise that it's much more fun taking part than watching us. That means we want you to come along and help us sing for three hours.
It's a bit like the blitz, except no bombs and no songs about the war. We've carefully selected a ranged of songs that are perfectly suited to being yelled at the top of your voice. You know when you go along to karaoke and you've always wanted to sing Total Eclipse of the Heart but didn't want to look an idiot? Well come to the Prince and we'll all look like idiots at the same time.
We'll provide all the words for you, so if you're  not overly familiar with our peculiar fascination with 80s pop and soft rock ballads you can just read along lustily. To be honest that's exactly what  we'll be doing.
We'll be starting at 8:00pm and we'll just carry on until they make us stop.
Special treats we have in store include:-
Summer of '69 – Bryan Adams
London Calling – The Clash
Africa – Toto
Psycho Killer – Talking Heads
Sweet Child O'Mine – Guns 'N Roses
Back for Good – Take That
Don't Stop Believing – Journey
All Night Long – Lionel Richie
Here We Go Again – Whitesnake
Total Eclipse of the Heart – Bonnie Tyler
Mr Brightside – The Killers
Mr Blue Sky – ELO
Doesn't that sound basically awesome?
July 8, 2013 | Posted in Gig | By Daz
We've got loads of stuff coming up as part of the Moseley Festival. On Saturday (13th) we will be playing two gigs.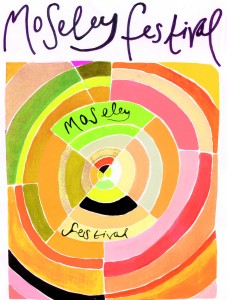 We'll be playing in Moseley Park as part of the Our Big Gig. Although we'll be on at 1:00pm, it runs from 11:00am – 3:00pm and there are lots of proper bands on.
We'll also be playing at 3:00pm on the Village Green as part of the Street Fair. We'll be playing two completely different sets so there is no reason why you can't come to both.
On Thursday the 18th we'll be hosting a sing-a-long in the beer garden of the Prince of Wales. Basically this is just us playing our same old songs for three hours but we want you to join in. If you've ever been to this before you'll remember it tends to get a bit messy. The sing-a-long starts at 8:00pm and goes on until Di reckons the neighbours can't take any more.
June 27, 2013 | Posted in Gig | By Daz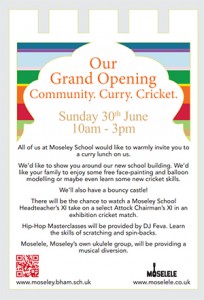 On Sunday 30th June we'll be playing at Moseley School as part of the grand opening of the new school. It  looks like there's a fair bit on, though the most important part seems to be free curry. There will also be a chance to learn new cricket skills (we have no idea what assumptions they are making about your current cricket skills) and there will be a bouncy castle (though that might be limited to the under 5s).
We've also been told that there will be a petting zoo that features:-
Lizards
Snakes
Undisclosed mammals
An owl
If that isn't enough we will be there to add a musical diversion, though hopefully not diverting from music too much. We'll be starting at about 10, in the morning, which should be good on some level of amusement.
There will also be a Hip-Hop master class from DJ Feva, we don't know if that means you're supposed to bring your own decks, that would pose a logistical challenge so probably not.
November 29, 2012 | Posted in Gig, Songbook | By Daz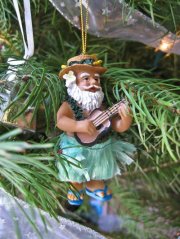 Another December and another year over. That doesn't mean it's time for morose introspection.
No, it means we get another chance to crack open the Snowselele song book. We've got quite a packed festive period with two meetings, a gig and, what some people have been telling us is, our customary Christmas sing-a-long. We're not convinced it can be custom after two years but we are looking forward to it.
So we will have two normal meetings on the 6th and 20th of December (I know the meeting dates panel on the page has stopped working), at these meetings we will just be playing songs from the Snowselele book.
On the 16th December we will be doing a gig at the MAC as part of their contemporary art and craft fair. This will be an hour long set from about 1 (1:30).
On the Sunday 23rd December we will be playing all night in the beer garden of the Prince of Wales. We will have songbooks for anyone who wants them and we really want to encourage everyone to come along and join in with us through just about every classic Christmas song we can think of. It was the highlight of our year last year and hopefully it'll be just as good this year.
If you want to hear all the songs that we do then you can listen to them on the dedicated Christmas Spotify playlist.
Or just watch the Youtube videos of most of them.