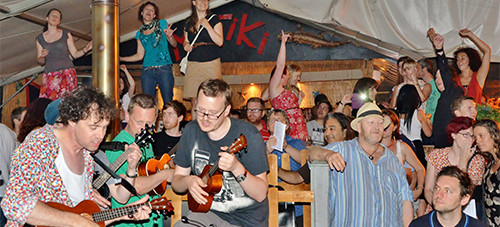 January 3, 2014 | Posted in Other | By Daz
2013 has been quite an exceptional year for Moselele, we've met loads of new people, we've learnt many new songs and we've played gigs in places that none of us really expected.
The year got off to a great start with the release of Book 4, cunningly named after the number of years we've been going. It was the first year that we concentrated on songs that were fairly easy to play and became much more accessible for it. It's also the first year where a wide range of people contributed their own songs. I know there were a number of songs that I thought didn't stand a chance of working, in every case I was well and truly wrong. Hopefully we'll do that again this year.
This year we managed to get away with twenty one gigs, creating a truly hectic Summer of weekly practising and playing. Highlights for me were the Summer and Christmas sing-a-longs at the The Prince of Wales, which once again proved there is very little that we can't make the people of Moseley sing. Getting to play at things like the Bearwood Shuffle and Valefest were great but also the odder gigs like playing on a canal boat to a ridiculously enthusiastic crowd of three, playing on the balcony above a shoe shop and our Moseley School gig where we played to a hedge and a very uncomfortable looking Mayor.
We'd all like to thank many of the friends we've made this year that have given us gigs, like Kaye from Companis who let us play at their Rude Food Fiesta, Maz for getting to us to play in a shoe shop and dress up for Halloween, Kerry for inviting us to Hall Green on TWO occasions and, of course Ruby for trusting us not to ruin her wedding.
The gigs we get to play are only really a tiny part of our year. Moselele is really about the nights where we get to shout songs in the pub and release our inner Boston. Throughout this year we've had many new people come along to meet us, quite a few of whom have become absolutely vital to how Moselele works. I think, for most of us, that's the thing that really works about this, we get to meet many new people and each of them make the whole group a little bit different.
Also this year is the year that we diversified into making our own ukuleles. What started as a stupid idea has taken on a bit of a life of its own with Moselele Bambookuleles now being played all over the country. Again a lot of the success of this has been down to the support of the people within Moselele, but also Baz from Gotaukulele who helped bring both the ukuleles and our group to a much wider audience.
I reckon a yearly summary can't really conclude without at least some recognition of individual contributions. So in no particular order:-
John R – For being the only person that managed to make every single gig this year.
Dave T – For putting his hand in his pocket and bringing us the gift of bass
Ian E – For making a banner even though I wasn't convinced
Alison D – For letting us all come round her house to rehearse (and Tim for putting up with this)
Paul PD – Obviously for being our biggest fan. There are very few people in bands that can drown out an audience with their own applause
I reckon 2014 is going to be even better and I know there will be people that come across this who've yet to come down and join us, yet this time next year they will be an integral part of everything we do. For those people, hello.
We're only weeks away from having Book 5 ready. That also reminds me that this year will be half a decade we've been doing this, which is ridiculous, we should get a cake.
July 15, 2013 | Posted in Gig, Meeting, Other | By Daz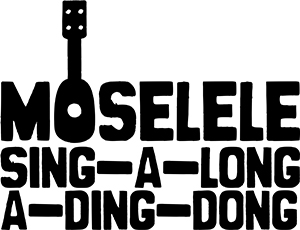 We're still in Moseley Festival so this Thursday (the 18th) we'll be hosting our world famous sing-a-long at The Prince of Wales.
We really like playing a vast range of songs and we realise that it's much more fun taking part than watching us. That means we want you to come along and help us sing for three hours.
It's a bit like the blitz, except no bombs and no songs about the war. We've carefully selected a ranged of songs that are perfectly suited to being yelled at the top of your voice. You know when you go along to karaoke and you've always wanted to sing Total Eclipse of the Heart but didn't want to look an idiot? Well come to the Prince and we'll all look like idiots at the same time.
We'll provide all the words for you, so if you're  not overly familiar with our peculiar fascination with 80s pop and soft rock ballads you can just read along lustily. To be honest that's exactly what  we'll be doing.
We'll be starting at 8:00pm and we'll just carry on until they make us stop.
Special treats we have in store include:-
Summer of '69 – Bryan Adams
London Calling – The Clash
Africa – Toto
Psycho Killer – Talking Heads
Sweet Child O'Mine – Guns 'N Roses
Back for Good – Take That
Don't Stop Believing – Journey
All Night Long – Lionel Richie
Here We Go Again – Whitesnake
Total Eclipse of the Heart – Bonnie Tyler
Mr Brightside – The Killers
Mr Blue Sky – ELO
Doesn't that sound basically awesome?
January 16, 2012 | Posted in Meeting, Other | By Daz
Hello and welcome to 2012.
I forgot to update the blog for the first meeting of 2012 but that doesn't mean we've gone and knocked it all on the head. On the contrary, we intend to bigger and stronger than we've ever been before.
We have lots of plans that include correcting all the errors in the first two books and starting book 3, we've made quite a bit of progress on this already.
We've still got the Facebook group and it is a really good way to keep in contact with us if you like that sort of thing.
We want to increase the amount of gigs we do this year and are always open to interesting offers. So if you feel your event can only be improved by fevered strumming, a bit of shouting and some enthusiastic counting get in touch with us.
Other than that we will be in the Prince of Wales on Thursday (the 19th) from 8 O'clock.
August 30, 2011 | Posted in Meeting, Other, Songbook | By Daz
It's been quite an amazingly fun packed Summer for us this year. We made our live debut at the Moseley Festival, we've found a new home at The Prince of Wales, we've bumped up songbook two until it's about to burst and this week we got to record in a proper studio.
Some of you will remember that a few months ago we got to rehearse in the fantastic Highbury Studio, well this weekend we had the opportunity to go back there and record something for a proper band. I use the term proper band because they have music that you can buy in shops and on the Internet which means they are proper.
A few months ago The Gurdan Thomas Collective got in touch with us and asked if we could help with their knew album. I seem to remember they wanted an army of Ukes playing the same thing on one part of a record. We said they could have ten, they agreed.
I think we all forgot about this until quite recently when they got back in touch to find out if we were ready. We all looked at the tab for the part and realised  that it was slightly more complex than drunkenly yelling along with Yazoo songs. We rose to it and spent a good seven hours rehearsing for about 40 seconds of glory.
It will be some time before we get to hear the results, but it was fun trying something new.
If you want to help us with things like this then you need to join the Facebook group, it does cause some problems because group messages get lost somewhere in the crazy system that  Facebook tries to pass off as a social network, but it is the best way to hear about specific things like that. Not that I can think of anything that is coming up soon.
So getting back to the normal run of things we'll be in the Prince of Wales from 8:00pm on Thursday. Please try and have copies of the books, they're in short supply.
July 28, 2010 | Posted in Other | By Daz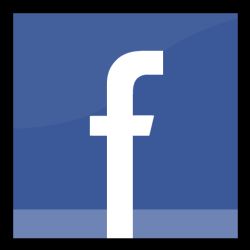 This is a week of almost constant Moselele news.
It was crazy enough finally getting a poster but now we've got a Facebook group as well.
Theoretically this will make people think there is some sort of coherent strategy for developing Moselele into a force of unparalleled power.
It's also a handy place for people to have discussions about things.