July 15, 2013 | Posted in Gig, Meeting, Other | By admin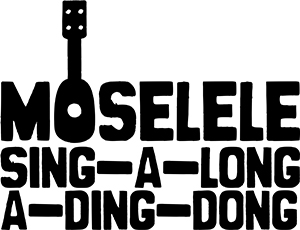 We're still in Moseley Festival so this Thursday (the 18th) we'll be hosting our world famous sing-a-long at The Prince of Wales.
We really like playing a vast range of songs and we realise that it's much more fun taking part than watching us. That means we want you to come along and help us sing for three hours.
It's a bit like the blitz, except no bombs and no songs about the war. We've carefully selected a ranged of songs that are perfectly suited to being yelled at the top of your voice. You know when you go along to karaoke and you've always wanted to sing Total Eclipse of the Heart but didn't want to look an idiot? Well come to the Prince and we'll all look like idiots at the same time.
We'll provide all the words for you, so if you're  not overly familiar with our peculiar fascination with 80s pop and soft rock ballads you can just read along lustily. To be honest that's exactly what  we'll be doing.
We'll be starting at 8:00pm and we'll just carry on until they make us stop.
Special treats we have in store include:-
Summer of '69 – Bryan Adams
London Calling – The Clash
Africa – Toto
Psycho Killer – Talking Heads
Sweet Child O'Mine – Guns 'N Roses
Back for Good – Take That
Don't Stop Believing – Journey
All Night Long – Lionel Richie
Here We Go Again – Whitesnake
Total Eclipse of the Heart – Bonnie Tyler
Mr Brightside – The Killers
Mr Blue Sky – ELO
Doesn't that sound basically awesome?
January 16, 2012 | Posted in Meeting, Other | By admin
Hello and welcome to 2012.
I forgot to update the blog for the first meeting of 2012 but that doesn't mean we've gone and knocked it all on the head. On the contrary, we intend to bigger and stronger than we've ever been before.
We have lots of plans that include correcting all the errors in the first two books and starting book 3, we've made quite a bit of progress on this already.
We've still got the Facebook group and it is a really good way to keep in contact with us if you like that sort of thing.
We want to increase the amount of gigs we do this year and are always open to interesting offers. So if you feel your event can only be improved by fevered strumming, a bit of shouting and some enthusiastic counting get in touch with us.
Other than that we will be in the Prince of Wales on Thursday (the 19th) from 8 O'clock.
August 30, 2011 | Posted in Meeting, Other, Songbook | By admin
It's been quite an amazingly fun packed Summer for us this year. We made our live debut at the Moseley Festival, we've found a new home at The Prince of Wales, we've bumped up songbook two until it's about to burst and this week we got to record in a proper studio.
Some of you will remember that a few months ago we got to rehearse in the fantastic Highbury Studio, well this weekend we had the opportunity to go back there and record something for a proper band. I use the term proper band because they have music that you can buy in shops and on the Internet which means they are proper.
A few months ago The Gurdan Thomas Collective got in touch with us and asked if we could help with their knew album. I seem to remember they wanted an army of Ukes playing the same thing on one part of a record. We said they could have ten, they agreed.
I think we all forgot about this until quite recently when they got back in touch to find out if we were ready. We all looked at the tab for the part and realised  that it was slightly more complex than drunkenly yelling along with Yazoo songs. We rose to it and spent a good seven hours rehearsing for about 40 seconds of glory.
It will be some time before we get to hear the results, but it was fun trying something new.
If you want to help us with things like this then you need to join the Facebook group, it does cause some problems because group messages get lost somewhere in the crazy system that  Facebook tries to pass off as a social network, but it is the best way to hear about specific things like that. Not that I can think of anything that is coming up soon.
So getting back to the normal run of things we'll be in the Prince of Wales from 8:00pm on Thursday. Please try and have copies of the books, they're in short supply.
July 28, 2010 | Posted in Other | By admin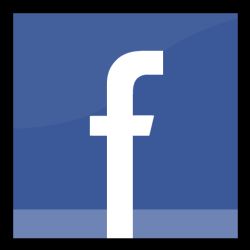 This is a week of almost constant Moselele news.
It was crazy enough finally getting a poster but now we've got a Facebook group as well.
Theoretically this will make people think there is some sort of coherent strategy for developing Moselele into a force of unparalleled power.
It's also a handy place for people to have discussions about things.
July 27, 2010 | Posted in Other | By admin
This is probably the most exciting Moselele news ever.
We had a fantastic response to the poster competition. We had thirteen entries with some people motivated to enter more than once.
We really appreciate the time and effort that people put into this and you can see all of the entries here.
We are more than pleased to announce that the winner is Jim who produced Guitar George for us.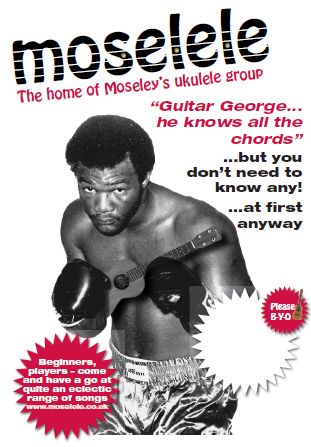 We're also pleased to announce that the prize is a bit better than we'd originally planned.
Jim will soon be the owner of a Kala Soprano Ukulele bundle.
Well done Jim and thank you everyone for all of your help.