May 18, 2015 | Posted in Other | By Daz
This Saturday we're excited that we're going all the way up north to the Grand Northern Ukulele Festival. We really enjoyed it last  year and hope that any of you that have bought Moselele Bambookuleles will come and say hello, we'll even give you a free badge.
If, on the other hand, you've  always wanted to buy Moselele Ukulele then you're in luck. We're taking loads of them with us and we'll exchange them for hard  cash.
We've also popped a Soprano Uke in the raffle box. We have no idea how the raffle works but if it follows the universal law of raffles you buy a ticket and fate itself will decide if you get a free uke.
Anyway come and see us and look out for the free stuff.

January 14, 2015 | Posted in Other | By Daz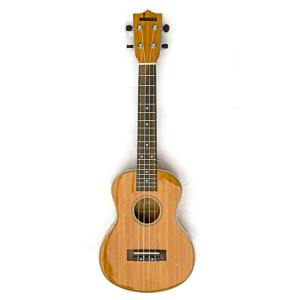 One of the things that just about everyone I meet says to me is "they play ukuleles in schools these days don't they?". To which I always reply, "apparently". Leaving aside that thrilling insight into my conversational skills it did get me thinking about the role of music in schools and how ukuleles can help. Having played musical instruments for most of my life I've probably become quite immune to the extra little benefits playing music gives you. Leaving aside the general accomplishment of learning a new skill there is also the very real social benefit of not only getting to meet new people but also getting to create something with people.
It's only  since been actively involved with our ukulele group that I've been able to sit and watch the pleasure people can get from achieving something they thought impossible. The ukulele adds, I think, two benefits to this. Learning to play an instrument but also letting people take part in communal singing without the fear of judgement.
These two benefits are clearly very transferable into schools. Though schools obviously know this because everyone I meet tells me that they play ukuleles in schools these days.
We'd like to get involved. We know that we have ukuleles that are very good to start learning with, we meet people every day that tell us this. We'd like to see how we can work with schools to not only give them access to our ukuleles but also to give them songs that their kids want to play. We have a fairly vast song list now and we've been trying to make it as contemporary as possible. We also have the skills to work out songs that we might not have.
So we're looking for a school or even schools that would be willing to invest in a box of our Soprano Ukuleles (10 per box) which we'd discount to £600 plus delivery. These would come with the gig bags as I think in a school environment they might get knocked about. This would normally retail for £750.
We also want to work with the individual school to put together a book of 10 songs that their kids want to play but also vary in difficulty, like a lesson.
This is just  an idea at the  moment so I'd be keen to talk to any schools that might be interested in seeing how we can make this work.
If you work in a school, or know someone that does, then let's have a chat daz.wright@moselele.co.uk.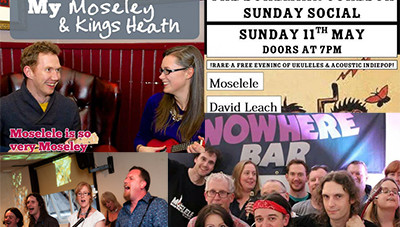 January 7, 2015 | Posted in Other | By Daz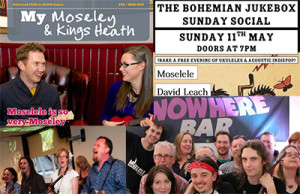 Do you remember 2014? It seems like only a week ago we were celebrating a year that almost exploded with opportunity. For us 2014 was a year we'll remember for a number of reasons. We got to move into a bigger room at the Prince of Wales, so for the first time in quite a while we could play and breathe at the same time.
We put out our 5th book of songs which includes countless songs that have become classics. We played a few weddings. Mainly weddings of Moselele members but that's good as it means they're not embarrassed to be seen with the rest of us in front of their families.
We went into a studio and recorded a song.
This wasn't something we were expecting to do but the chance to try and help Moseley Park and Pool with their lottery bid turned out to be the sort of incentive that we needed. Though getting Gurdan Thomas to write us a decent song helped quite a lot.
We got to the point where we have sold nearly 1000 Moselele Bambookuleles and got to visit the Grand Northern Ukulele Festival where we met loads of nice people. Even some people that have made the effort to travel to Birmingham to play with us.
We had tried to cut down on the number of gigs we did this year as 2013 had been a bit overwhelming. We got to play for some great people at Alfie Bird's, the Bohemian Jukebox, Oxjam Brum and the Nowhere Bar. We also held two sing-a-longs at the Prince of Wales. One as part of the Moseley Festival and our usual Christmas sing-a-long. Both of them turned out to be massive events with hundreds of people turning up and singing louder and better than we ever stood a chance of competing with.
One of the things that we learned last year is that doing so many gigs takes a lot out of people. Although we've always encouraged anyone that's come a long to Moselele to take part in our gigs we did come to a point where we were much too reliant on a few people who know the songs. So we've decided for 2015 that we're going to stop doing gigs and concentrate on our Thursday nights in the Prince. A big thanks to everyone that has booked us in the last few years.
We will continue to do our Summer and Christmas  sing-a-longs.
The next big thing we've got coming up is the release of our sixth book of songs. This book is going to outrageous with a notably inappropriate choice of songs.
If you got a ukulele for Christmas and can't think what to do with it, or if you're a proper musician that wants to join with some communal singing and strumming why not come and join us? We're always desperate for people that can sing. We meet in the Prince of Wales on the 1st and 3rd Thursday of each month. We're in the shed at the back (it's a big shed).
Thanks to everyone who has supported us in 2014, we hope to see you in 2015.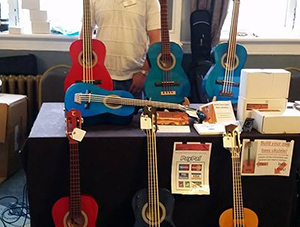 October 9, 2014 | Posted in Other | By Daz
We were at the Grand Northern Ukulele Festival a few weeks ago (we might have mentioned it). Whilst we were there we met Darren from Buzzards Field Basses and we were massively impressed. If you're looking to buy a bass uke or even if you want to buy an acoustic bass then you should look at these.
Darren has taken short scale acoustic guitars and converted them into ukes with his own DIY Bass Kit. You can buy the converted bass off him (for a ridiculously low price) or you can buy the kit and just have a go yourself.
Bass ukes seem to have become really popular over the last few years, mainly because they add a depth to a group that you're not going to get with loads of people banging away on ukes. I bought a Kala uBass when they first came out and they're great, really expensive but great. I've had  a go on one of the Buzzards Field Basses and I genuinely think they're better than the Kala version, they sound better and are more comfortable to play. They're also much cheaper.
Anyway Got A Ukulele did a review of them and it's worth watching if you're in the market for a bass. Actually it's worth watching if you're just inspired to have a go at making one yourself.
October 1, 2014 | Posted in Other, People | By Ian
Tom's been to the dentist today. He can't really talk properly at the moment and we strongly suspect he is still a bit giddy from the anaesthetic. We asked him to sing us a song and he obliged.
Quite why he chose Rawhide, we're not sure. It's not in our repertoire.
He then took requests.
Britney Spears' Womaniser never sounded like this before.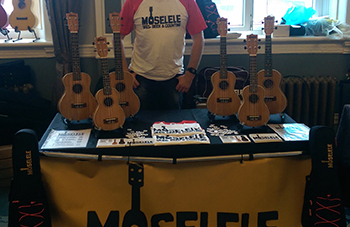 September 15, 2014 | Posted in Other | By Daz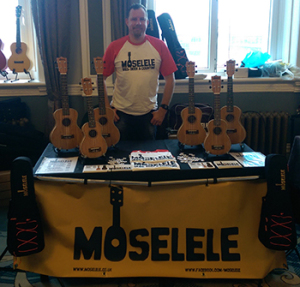 We made it all the way up to Huddersfield this weekend for the Grand Northern Ukulele Festival and had a fantastic time. We were a bit trepidant about taking our Bambookuleles out to meet the public. Over the last year lots of people we know have bought them and lots of people have bought them via the Internet but we've never had to stand in front of people and watch their reaction. We also had never done anything like run a stall at a festival so had no idea what were doing or how much stock to take.
Fortunately everyone we met was really friendly and spectacularly positive about what we've been doing to create a decent entry level uke. Some of the festival performers were really encouraging which reassured us that even people who know what they're talking about can get a great sound out of a ukulele largely constructed from grass.
We also got to talk to hundreds of people from groups all across the country to find out how they run things. We also learnt lots of random things like:-
The tax  structure of the Channel Islands
Issues related to Ophthalmology
Great gardens of Wednesbury
The importance of the wolf tone
We learnt a lot.
Most importantly for us we sold everything we took with us which came as a complete surprise to us.
We met a few people that sell uke related things that we reckon you'd all benefit from knowing about so we're planning on putting some blog  posts together about them over the next few weeks.
A big thanks to the festival organisers and everyone who bought a Bambookulele off us or even just talked to us for a bit.
Oh this is odd. We spent a weekend at a festival and didn't see one act, we talked to some of them but didn't see any play. We should probably try harder next time.
September 8, 2014 | Posted in Other | By Daz
We're really excited to be going to the Grand Northern Ukulele Festival in Huddersfield in only five days (13th-14th September). Whilst going along to see the range of people they've got on would be great we're actually going to work. So we'll be there on Saturday and Sunday with a full range of Bambookuleles and other stuff for you to look at and have a go on.
We're also looking forward to meeting all of the people from the around the UK that helped us out with creating our own range of ukuleles. If you've been in touch with us or even bought one in the past please come along and say hello. You might also get a special free gift*
*Free gifts are still being made and it's a bit up in the air whether or not they'll be ready by the weekend.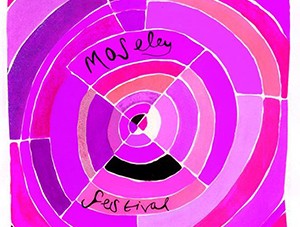 July 4, 2014 | Posted in Other | By Daz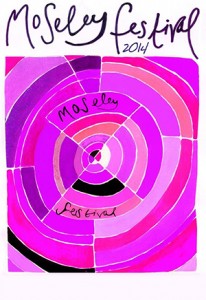 From today the Moseley Festival explodes all over the Village like a……. I don't have a simile, like it did last year. Just like last year we've got loads of things going on so I'm going to list them on here so there is effectively no chance you will miss them.
On Saturday the 5th (tomorrow) we're playing two gigs. One at 2:00pm on  the Village Green (part of the Street Fair) and another one at 3:00pm in the Park. The gig in the Park will have completely DIFFERENT songs so there isn't really an excuse for only coming to one of them. At the 3:00pm gig we'll also be playing our Moseley Park song in front of people for the first time. That isn't to undermine the 2:00pm gig, as we'll also be playing a rare selection of new songs.
That is by no means the best bit. On Thursday the 10th we'll be hosting our annual sing-a-long in the beer garden of The Prince of Wales. This is very similar to our annual Christmas sing-a-long but with no Christmas songs. We'll supply the words and all you have to do is come along and belt out 80s pop classics until we're told to stop.  Yes, we do play ukuleles but we won't make you sit through the usual twee nonsense that ukulele groups usually make you listen to. Anyway you'll be singing along won't you? Really this is a great night, you haven't lived until you've experienced the majesty of the Prince of Wales united in Total Eclipse of the Heart.
We've got the book of songs ready for you so you can have  a practice.
We love the Moseley Festival as it's the only festival  that's organised by volunteers for the people of Moseley. So please come along to the Street Fair tomorrow, our sing-a-long on Thursday and the vast amount of other exciting things that are going on until the 13th July.
June 23, 2014 | Posted in Other | By Daz
A few months ago the lovely people at Moseley Park and Pool asked us if we could help their bid to the National Lottery Heritage Fund with a song about the  park. We were very excited about this as we love the park, we've got to play there a few times and it is the best hidden part of Moseley. Then we had the sinking realisation that we can't write songs. We stand in the street and shout at people, we're not Art Garfunkel, we're not even Paul Simon.
It did occur to us that we do happen to know a really good songwriter so we asked Gurdan Thomas if he could write a song for us. Realising that this was a community emergency Gurdan dropped everything he was doing and wrote us this song.
You can also download it from Soundcloud.
We need to say a big thanks to Rob and John at Highbury Studio who helped us make the song but also all of the Moselele people that gave their time and even video footage.
Thanks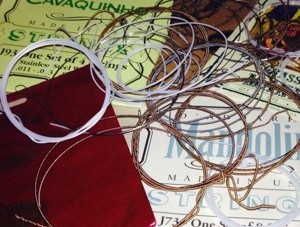 April 28, 2014 | Posted in Other | By Ian
From time to time the question of strings arises on our Facebook group and, each time, I pitch in with my views. I thought it might be worth doing this one more time, but in a more permanent place (you know how those Facebook posts rapidly disappear off the bottom of the page).
A caveat before I start: I'm wrong on most of what I say and I'll probably change my mind before I've finished writing it. You're wrong too. Or perhaps you're right. Maybe we're both right. The thing with strings is that most of it is a matter of taste and personal preference. There's a comments section below when you can get involved in the debate. These are the issues that Jeremy Vine and the Daily Mail website fear to tackle.
Do I need to change my strings?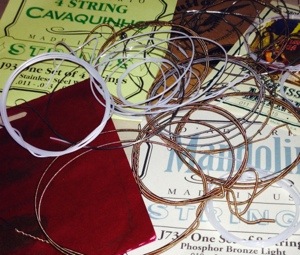 Maybe. Uke strings last for ages, though, and they're not like guitar strings which are subject to higher tension or being thrashed with a plectrum. (Oh, you don't use a plectrum on uke, do you?) They don't suffer from dulling as noticeably as guitar strings do either. Guitarists will know about this; when you put new strings on your guitar it sounds all lovely and zingy, but a couple of weeks later it sounds rubbish again.
If you've had your strings on for longer than a year then have a look and have a listen to them. Do they have pits in them from being pressed against the frets? Are they dirty, covered in beer, sweat and pork scratching dust from nights in the back room of the Prince? This corrosive combination is what usually does for my strings. If they're showing signs of physical wear then replace them.
Do you know the brand of your current strings? Cheap ukes will keep the costs down by stringing them with cheap strings. You can often tell this if all the strings have the same thickness. A proper set will vary with increasing thickness or gauge as pitch rises. If your uke came with unbranded cheap ones, you should probably replace them. Fancier ukes will often have a tag tied to one of the machine heads telling you that your new purchase is strung with such-and-such brand of strings.
A word of warning though. If you are going to change your strings, don't do it it just before a gig. They will take a while to stretch in and settle and you'll be spending about a week tweaking them up a bit. For this reason when you do replace them, you won't need to put more than a couple of turns around the machine head (tuning peg). By the time they've stretched you'll end up with a big lump of string around it.
What size strings should I buy?
What size is your uke? That size. Just buy the correct size and be done with it.
Low G or high G?
Now the fun starts. Ukes are usually tuned to gCEA, which is known as a re-entrant tuning. That g string is a high string (tuned just below that top A string). This is how ukes come by default when you buy them. The lowest note you can get is that C string. (Those familiar with guitars will know that the strings run from low to high across the fretboard. They're not re-entrant.)
Putting a low G on a uke means we're replacing that high g string with a thicker one – a G – so you have GCEA. It's similar, but that thicker G is an octave lower. (The way the physics works is that there is a relationship between the pitch, the thickness and the tension of strings. The thicker the string, the lower the pitch, but the tension stays similar to a thinner string.)
In replacing the g with a thicker, lower, string you are increasing the range of notes you can get, down a whole five semitones, so our lowest note is now on the G.
There are a number of factors to consider when deciding to go low G or stay with the standard high G. What size of uke do you play? If you play a soprano then frankly don't bother trying. Strings are generally difficult to find and will sound wrong. If you play a concert then maybe, if you want. Personally I'd only consider it as an option on a tenor as there's more of a bass response in the overall tone of the instrument to make it worthwhile.
If you play on your own I would also advise against it. On its own it can sound odd as the root notes of your chords may sometimes come out wrongish. I'll explain why when I give some tips on playing with a low G, below.
If you play with a group then maybe consider giving it a go. However, look at the rest of the group and listen. At Moselele, I was probably the first to give it a try. I found it a positive thing as it added another dimension to our sound and personally it didn't feel like I was playing the same as everybody else. It's important to be in time and fit in but it can sound dull without any variation across a large group. Over time I've noticed a bit of a shift and an escalation within the group. Not sure if it's a bloke thing – bigger ukes, more bass – but there was a point where it was looking like more and more people were going low G on tenors. It might be because we're quite a large and loud group so hearing yourself becomes more difficult and going for power and volume end up being a solution for people. Partly for this reason, I got myself a soprano recently and discovered the sweeter, lighter and higher tone of that will come through for me when it all gets a bit heavy.
Ultimately a group ought to have a range of variation across the sizes of ukes and have a few low Gs, but not too many.
I mentioned earlier about playing tips. Playing low G does come with some responsibility. You don't want to dominate or stand out in the wrong places when playing in a group. You have to blend. You need to bear in mind that the shape of uke chords are generally built around the fact that the lowest note available is usually on the C string. Chords are generally built upwards from the lowest root note. So in a C chord then the lowest string sounding is the C. However, if you go low G, all of a sudden that C chord has a great booming low G note in it which can sound odd. As a guide, if the G string isn't being fretted then you're going to have a low G note evident in your chord which you might not want. So if the G isn't bring fretted then I'll bring my thumb up round the neck to dampen it.
Which brand?
You generally can't go wrong with Aquilas. They make fine strings and they seem to be the standard by which all others are judged. They're the de facto brand that come on decent ukes and there's often a tag tied to the machine heads to indicate this.
Strings used to be made from catgut. Most of us uke players seem to have cats so that's a bad thing. We live in the future now so synthetic strings long ago took over from catgut. Aquila use something called Nylgut (nylon gut presumably).
I've not tried them myself, but the other premium brand on the market are Worth. These are a fluorocarbon string and come in clear or brown varieties. People speak highly of both.
All the other major string companies make uke strings – La Bella, Martin, d'Addario. If you're a fan of those brands from other instruments you might play, then consider them.
Don't go buying polyester strings. They're the cheap and nasty ones that get put on cheap ukes.
If you fancy a splash of colour then you might want to take look at Aurora, which are supposedly a silkgut string made by Aquila but dyed by Aurora. They come in a range of bright colours, or you can get a multicoloured set. Our local music shop in Moseley, Shades, also produce a set of nylon rainbow strings as part of a music teaching scheme for kids. I'm not convinced that distinguishing between strings with colour, or anything else for that matter, is an effective teaching method but if it's a gimmick that gets kids interested in learning to play, then that's got to be a good thing.
If you're into low G then Aquilas might not actually be your best bet. (I said I might change my mind, didn't I?) For ages, their low G was a wound string – basically a steel winding around a thinner nylon core. Now this may be a personal thing but I found that these corroded really quickly which would lead to frequent string breaks. Probably a combination of the aforementioned beer, scratchings and the heat and sweat of over 30 people crammed into a small room but I was finding that they'd be pitted from wearing on the frets after just a couple or three sessions and the windings would go. There was also a tonal difference between the wound string and the non-wound. Aquila have since brought out their Red series. This is a single dark red thicker nylgut G string. They do look great and they have a nice, slightly rough, feel. Tonally they fit in with the rest of a set of standard nylguts too. But, they take ages to settle into tune, so much so that you end up with a huge lump of string wrapped round and round your tuning peg. (And they break. Often. In odd ways and strange places. I've had them snap while playing at various places along their length so it's not due to a tight nut, or a sharp fret or using a plectrum. I've even been woken by strange noises from the corner of the room at night, only to discover that a string just snapped while a uke was sitting there doing nothing. This isn't just my experience either. Several others from our group have reported similar.)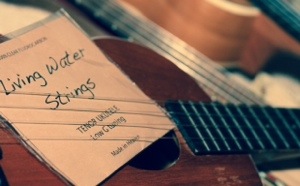 A couple of months ago I decided to try some Living Water strings produced and distributed by Ken Middleton. These are a clear fluorocarbon string, slightly thinner in gauge than the Aquilas and a little quieter. A lovely bright and clear tone though. I've had a low G tenor set of Living Water strings on for almost three months, which is a record. I really like them. Ken produces a range of different sets for the various sizes in low and high G variations. I also like the fact that this is more of a cottage industry by somebody who plays and is active on the uke scene, rather than a product of a large company shifting units.
Where to buy?
Your local music store, Amazon, eBay… caveat emptor, as always. You'll find that an eBay search generally turns up a store for several of the below anyway. It's worth paying a quid or two more to be sure you're getting what you expect from a reputable dealer but then you may as well buy direct from their proper sites. Presumably they get a few pence more per sale if you cut eBay out, and it's always worth supporting the companies that support your hobby.
Southern Ukulele Store are always good.
Eagle Music are my personal favourite and have always been quick to deliver.
Shades Music in Moseley for the rainbow strings if that's your thing.
Ken Middleton for Living Water.