February 3, 2017 | Posted in Songbook | By Daz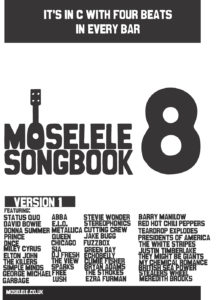 We're really pleased that we have finished our eighth book of songs. It's taken a few months to put together but it's an epic book. As always, we've done all of the songs from scratch and, where possible, matched each song to the original so it's easier to figure out how to play them.
This year we've kept up the focus on recent songs but also have a fair wack  of the 80s in there.
We've got songs by Garbage, George Michael, DNCE, DJ Fresh and Ezra Furman. It's quite a range of songs.
Feel free to download it from here or go to the songbooks page.
As there are quite a few songs in the book that people might not know, we've also put together a Spotify playlist with almost every song on it.
Have fun with it and let us know how you get on.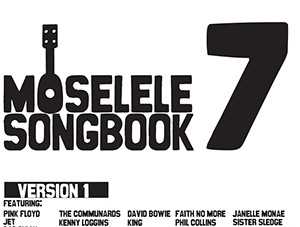 February 5, 2016 | Posted in Songbook | By Daz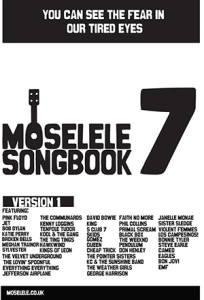 We're pleased to say we've gone and completed our seventh book of songs. It's got a really wide range of songs in, most you won't find anywhere else. We know this because we tried to find them and they were nowhere to be seen.
It's got loads of stuff in there that's fun to play. There's a bit of Everything Everything, our now annual go at a Violent Femmes song, the obvious Bowie contributions as well as Faith No More and Pendulum. We've tried to fill in our disco gaps with varying success  and we seem to be developing a weird obsession with the Weather Girls. What can go wrong with that?
You can head straight over to Book 7's dedicated page  or you can just cut out the middle man and download it here.
As usual we've created a Spotify Playlist with all of the songs on. Because this seems to be a thing there is also an Apple Music playlist. It's well worth a listen as it's unlikely that many people will be familiar with every song in it. We're not and we put the thing together.
Thanks to everyone who contributed songs. As in other years there were many more submissions than we had room for so some did get left out.
We've put together a Youtube playlist, if you've got a spare three hours you can watch videos of every song we've put together.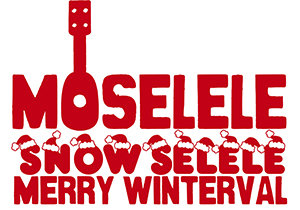 November 23, 2015 | Posted in Songbook | By Daz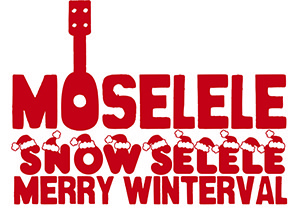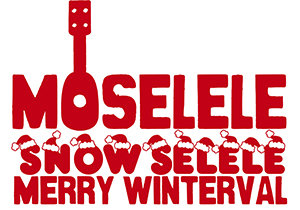 We've updated our Christmas songbook to include a load more festive songs. We don't do it very often as it's generally quite difficult to think of anymore. Somehow we found another 17 that we'd previously missed, including some classics.
That brings our book up to 61 songs now. We're really pleased that we've worked these out directly from the records so they should be accurate, though there has been some tinkering to suit how we work as a group.
You can also listen to all of the songs on our Christmas Spotify playlist.
This time we've added songs by:-
Darlene Love
The Ronnettes
Dean Martin
The Weather Girls
Destiny's Child
The Wombles
Bruce Springsteen
And more.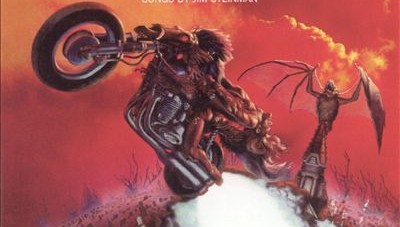 September 17, 2015 | Posted in Other, Songbook, Songs | By Daz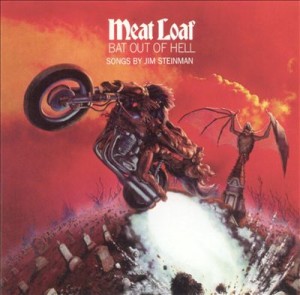 I've been meaning to do this for ages but I thought it would be interesting to look at the favourite songs that people play at Moselele and why they like them. To start off, my guilty pleasure is Bat Out of Hell by Meatloaf. Not because it's a great song (epic might be more appropriate than great) but because it is a song that we worked really hard to get it to work. Before we were putting together Songbook 3 I spent a lot of time thinking about what would be the most ridiculous songs that we could try out on a ukulele.
I had a long list of rock ballads but in the back of my mind there was always Bat Out of Hell. It's the epitome of pompous rock and at nearly ten minutes long is just an unreasonable ask for a group of people on tiny guitars. I mentioned this to one of the people at Moselele and he just went away and worked it out, we then never saw him again. Thanks Paul, wherever you may be these days.
When we first sat down and had a go at it we just couldn't make it work. It was too close to the original and I think it's fair to say that everyone had a very different recollection of how it went. It actually ended up sitting in Songbook 3 for nearly a year largely ignored. That always bothered me and I knew that if we could ever sort it out so we could play it at a gig then it would be one of the greatest moments of my life.
We ended up getting a small group of people together and simplifying it a bit, but also properly practising outside of our Prince of Wales sessions. Eventually we got it to work, it was one of the greatest moments of my life.
I love playing this because it's got complicated parts that are actually quite easy once you see how they fit together. More importantly I love playing this because there's always a moment after the first verse where everyone comes together and channels Meatloaf (Meatloaf isn't dead).
You can listen to us having a go at it here. It's shambolic but it's fun. You can also download the chords and have a go yourself.
Have you got a favourite song that you love playing and want to tell people why?
Daz
Moselele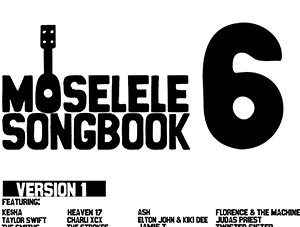 January 21, 2015 | Posted in Songbook | By Daz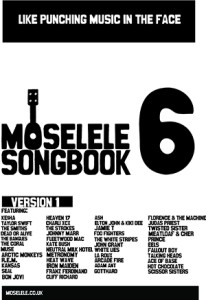 We're really pleased to announce our sixth book of songs. You can download it from the Book 6 page (or just click this link)
We think we've come up with a really eclectic range of songs with a particular focus on more recent songs. There's probably a fair few songs in there that you've never heard of so we've put together a Spotify Playlist which has nearly all the songs on it. Some people don't put their stuff on Spotify so you'll just have to guess how those songs go.
This has taken four months to put together and of all of the books we've done has had the greatest number of contributors. Thanks to everyone that contributed songs, sorry if we've changed them a bit. Also thanks to all of the people that contributed songs that didn't get into the book. It's been hard to go through all of the songs and figure out which ones work best.
These will be the songs that we'll be concentrating on for the next few months so if you're going to come along to play with us make sure you're vaguely familiar with the songs and more importantly have a copy of the book.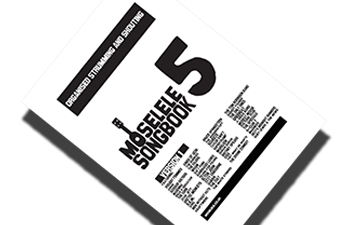 February 4, 2014 | Posted in Songbook | By Daz
Over the years we've settled into a routine where we spend January putting together our new songbook, this year is no exception.
Songbook 5 is by far our largest book and has been put together with more group contributions than ever before. So here are some all important number about Songbook 5:-
It has 86 pages
It has 47 songs
It has 13 songs from the 21st Century
It has 11 really easy songs
It has 0 really difficult songs
We think there are going to be quite a few songs that turn out to be instant classics. There will also probably be a few where we try to fathom the madness that made us include them, that's how it goes.
We hope you enjoy playing the songs as much as we've enjoyed putting them together.
You can download the book here
You can listen to the Spotify Playlist here.
Or just watch the videos.
It is a long book so have a think about how you are going to print it out. If you don't have an understanding boss then it is probably best to get the book on a USB stick and take it to somewhere like Osbornes where they will print it out. We will being using this book from this Thursday (6th February) so you will need a copy of it.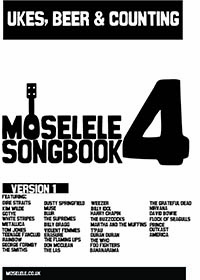 February 16, 2013 | Posted in Songbook | By Daz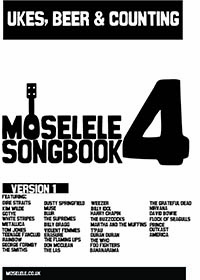 We're really please to be able to say that we have finally finished making Songbook Number 4. We've made a bit of an effort with this one to try and make it much easier than the last few books.
Make sure you download a copy as we will be concentrating on songs from it for the next few meetings. There are quite likely to be a number of songs that you will not have heard of before. You can listen to them on the Spotify playlist that we've made for this book,  or all of the songs are contained in the Youtube playlist embedded below.
Many people have helped with putting this together, through either suggesting songs, working them out or testing that we've got them mostly right. A big thanks to everyone that's helped. It's taken a few months but we did get there in the end. There are some really fun songs in here so we hope you enjoy them as much as we have done.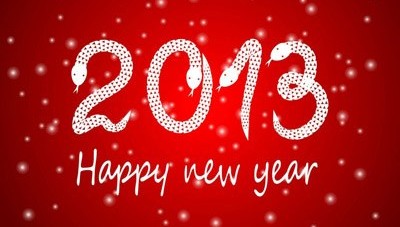 January 14, 2013 | Posted in Meeting, Songbook | By Daz
I know it seems like only last week that everyone got over wishing you happy new year, but one more won't hurt will it?
2012 turned out to be a really good year for us. Besides our usual meetings every other Thursday (I know they're not really every other Thursday when months are particularly fat) we got to play in loads of different places.
We managed to do loads more gigs than we expected last year and it is down to the patience of the people that turn up to each meeting that give up their free time that means we  still seem to be getting away with it.
We're really looking forward to 2013, we've got a new songbook coming in the next couple of weeks but we've also overhauled songbooks 2 and 3 to try and sort out the odd errors that were in them. In songbook 3's case there were quite a few.
You can download the complete new Songbook 2 here. If you already have Songbook 2 and just want the pages that have changed, you can download the Songbook 2 change document here.
You can download the complete new Songbook 3 here. If you already have Songbook 2 and just want the pages that have changed, you can download the Songbook 3 change document here.
Hopefully the change documents will stop people having to print out so many pages. You obviously don't need to print these out but if you don't you'll be playing different versions of some songs to other people.
We hope to have the new songbook ready for you in February.
We are going to be meeting on Thursday at 8:00pm in the Prince of Wales so hopefully we will see you there.
November 29, 2012 | Posted in Gig, Songbook | By Daz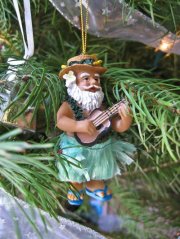 Another December and another year over. That doesn't mean it's time for morose introspection.
No, it means we get another chance to crack open the Snowselele song book. We've got quite a packed festive period with two meetings, a gig and, what some people have been telling us is, our customary Christmas sing-a-long. We're not convinced it can be custom after two years but we are looking forward to it.
So we will have two normal meetings on the 6th and 20th of December (I know the meeting dates panel on the page has stopped working), at these meetings we will just be playing songs from the Snowselele book.
On the 16th December we will be doing a gig at the MAC as part of their contemporary art and craft fair. This will be an hour long set from about 1 (1:30).
On the Sunday 23rd December we will be playing all night in the beer garden of the Prince of Wales. We will have songbooks for anyone who wants them and we really want to encourage everyone to come along and join in with us through just about every classic Christmas song we can think of. It was the highlight of our year last year and hopefully it'll be just as good this year.
If you want to hear all the songs that we do then you can listen to them on the dedicated Christmas Spotify playlist.
Or just watch the Youtube videos of most of them.
October 27, 2012 | Posted in Meeting, Songbook | By Daz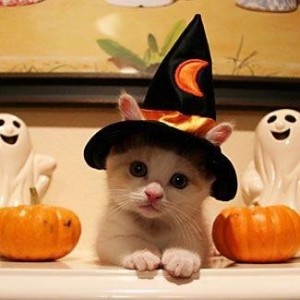 Next Thursday (1st November) will be a special meeting because it is the one week a year where we break out the Spookelele songbook. All manner of scary songs (well vague references to the paranormal).
The book has been updated since last year. It has another nine songs in. So it might be an idea to listen to the Spookelele playlist to make sure you're familiar with most of them.
There will also be sweets and scary ghost costumes.