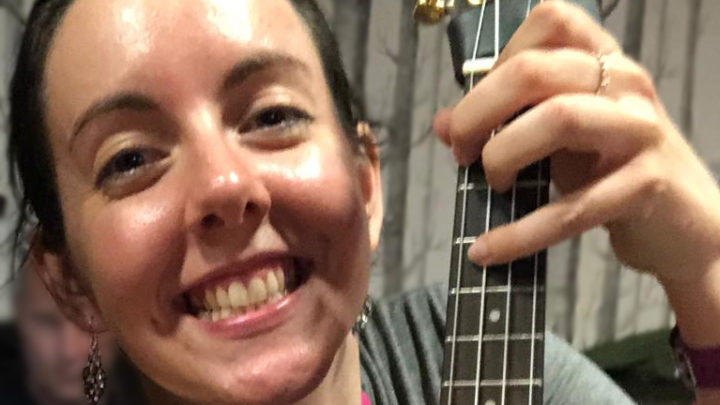 Yes, the bank holiday is over and the new school term is nearly upon us. So what better way to help a teacher prepare for the end of the summer holidays than to demand photos and detailed information from her about her musical habits?
That's right, it's another Meet Moselele. And if you're all listening, yes, including you there at the back, we'll make a start.
Right, Miss M – they're all yours…
---
1) Tell us how you started playing the ukulele. (How long ago? Did you play other instruments before?)
I was walking past Fairdeal Music about eight or nine years ago with a musical friend when we noticed they were advertising a sale so we went in. My first ever ukulele was a Mahalo soprano I bought for £35, down from £70 that day. It was a total whim purchase!
I had played guitar a bit before but not very successfully. I started playing uke, though, because I had sung in a guitar and voice duo at university. After leaving, it was too hard to continue due to distance, so I decided to learn an instrument so I could continue doing open mics or gigs.
After buying my first ukulele I found it much easier to play than guitar. I still own my guitar… it is just a little dusty these days!
2) What uke(s) do you play? (Have you made any adjustments/personalised it? Do you use a plectrum?)
I now play an electric tenor made by Snail. I have had it for three years now and it is beautiful. I am delighted to own a Moselele soprano too as well as my very first Mahalo one which is now on long term loan to my dad!
Only adjustments to my Snail are the strap button kindly attached by Daz so I can have a strap.
I use a leather plectrum! John R once lent me his to try and I purchased my own the next week. It just keeps my thumb a little more intact and I can play with a louder sound than I would otherwise strum.
3) Do you remember your first Moselele? (What prompted you to come along? What were your first impressions?)
I do. I had moved back to Birmingham at the end of July 2015 and I came to Moselele the first week of August just after a very close family bereavement. It was a sad time for me but I forced myself to go along as I needed the distraction.
I had heard of Moselele years before and had wanted to try it out and meet new people. The idea of sitting in a room full of people playing the ukulele singing their hearts out just sounded like too much fun not to give a go.
I had a lovely time. I sat by Ian and everyone was welcoming and friendly.
4) What keeps you coming back to Moselele?
The silliness, the singing, the fact that in four years I have gone from knowing about five chords to about 30 or so without hardly practising in between, the people who I now call friends, the songs, the singalongs, Christmas… I am a big fan of Moselele!
5) What's your favourite Moselele song?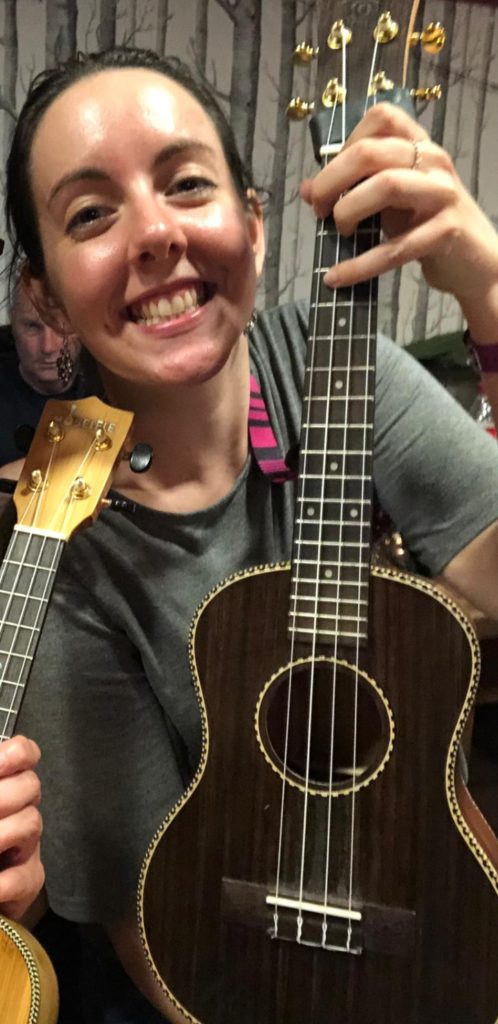 I fear I will have forgotten one I like more to claim any favourites. I like Size of a Cow, Regret, Friday I'm in Love, Tarantula… (I am affected here by the recency effect of memory… we played most of those last time!)
6) What's your usual Moselele tipple?
Single JD and Coke or Apple and Mango J2O… and a pint of water. My mouth gets so dry singing for three hours! Or if I have left the car at home… Double JD and coke! (Still with water too! It is thirsty work.)
7) Do you practise at home? (What do your family/housemates/pets think?)
Rarely… but it will be more at the request of a friend or family member so I guess that is more of a performance! They seem to be positive about it…
8) What's your favourite Moselele story/memory (so far)?
My first ever singalong was a Spookelele. I was overwhelmed by the whole experience but in a very good way. Everyone went to a lot of effort with what they were wearing and I felt incredibly proud to be part of such a fun group of people. Then the Snowselele singalong topped it even more!
I also love how Moselele wait for me to do the "babeeeyyy" bit of Kiss from a Rose sometimes. They realised I was a big fan of Seal when I missed a Summer singalong in order to see him perform – sorry Moselele! But thank you for not ostracising me!
9) What would you say to anyone thinking of joining?
Join us! You can share my music!
10) Tell us a secret.
I used to find Daz annoying. I don't now! (Sorry Daz.)
---
…I think I'll just leave that hanging there, awkwardly.
Aaaanyway, you might be interested to know that Ania will be running a half marathon in October (it's not the Great North Run… but that's a long story) and, more importantly, fundraising for the Alzheimer's Society in the process. If you'd like to support her with a donation, go to Ania's JustGiving page.
And if you're a Moselele regular*, why not answer the Meet Moselele questions yourself? You too could be sharing your innermost secrets at the touch of a "send" button. Just email or message Emma (and if you're not sure how to do that, just leave a comment here or on the Moselele Facebook group).
*You don't have to be a particularly regular regular – we just need to know you intend to come back!
Read previous Meet Moselele posts
Those we have loved and lost… and those who keep coming back for more. The crazy fools.
Meet Moselele: #22 – Garry B
Meet Moselele: #21 – Katie C
Meet Moselele: #20 – Ian J
Meet Moselele: #19 – Peter H
Meet Moselele: #18 – Fiona C
Meet Moselele: #17 – Stephen P
Meet Moselele Takeover: #16 – Emma W
Meet Moselele: #15 – Sarah A
Meet Moselele: #14 – Tom H
Meet Moselele: #13 – Bob J
Meet Moselele: #12 – Conor C
Meet Moselele: #11 – Scott C
Meet Moselele: #10 – Paul P-D
Meet Moselele: #9 – Dave T
Meet Moselele: #8 – Lorna P
Meet Moselele: #7 – Phil B
Meet Moselele: #6 – Daz W
Meet Moselele: #5 – Mark S
Meet Moselele: #4 – Rhiannon D
Meet Moselele: #3 – John R
Meet Moselele: #2 – Ian E
Meet Moselele: #1 – Rob P