Right, so I'm a bit hungover this morning… but even so, I think you'll agree that this Meet Moselele response has everything. T'Pau! Heavy metal stickers! Middle aged men! Ahhh, yeaaahh. Meet Dave B.
---
1) Tell us how you started playing the ukulele. (How long ago? Did you play other instruments before?)
I started playing guitar when I was 12, and spent the night of my 18th birthday playing guitar and singing in a Britpop band supporting T'Pau! My friend sniffed Carol Decker's pants! I had a ponytail! For reasons still unbeknown to me, even though I am me, I then pretty much gave up playing music in my early twenties. The thing that made me want to play music again is hearing Moselele in the shed at the back of the Prince. I bought a ukulele so I could come along. That was coming up to three years ago now.
2) What uke(s) do you play? (Have you made any adjustments/personalised it? Do you use a plectrum?)
I have the state-sanctioned Moselele uke. I bought a strap but never use it. (If anyone wants it let me know). I had no personalisation whatsoever but in honour of this question I have just added several stickers that came free with a heavy metal magazine. I'm not sure how I feel about these stickers but I've done it now.
3) Do you remember your first Moselele? (What prompted you to come along? What were your first impressions?)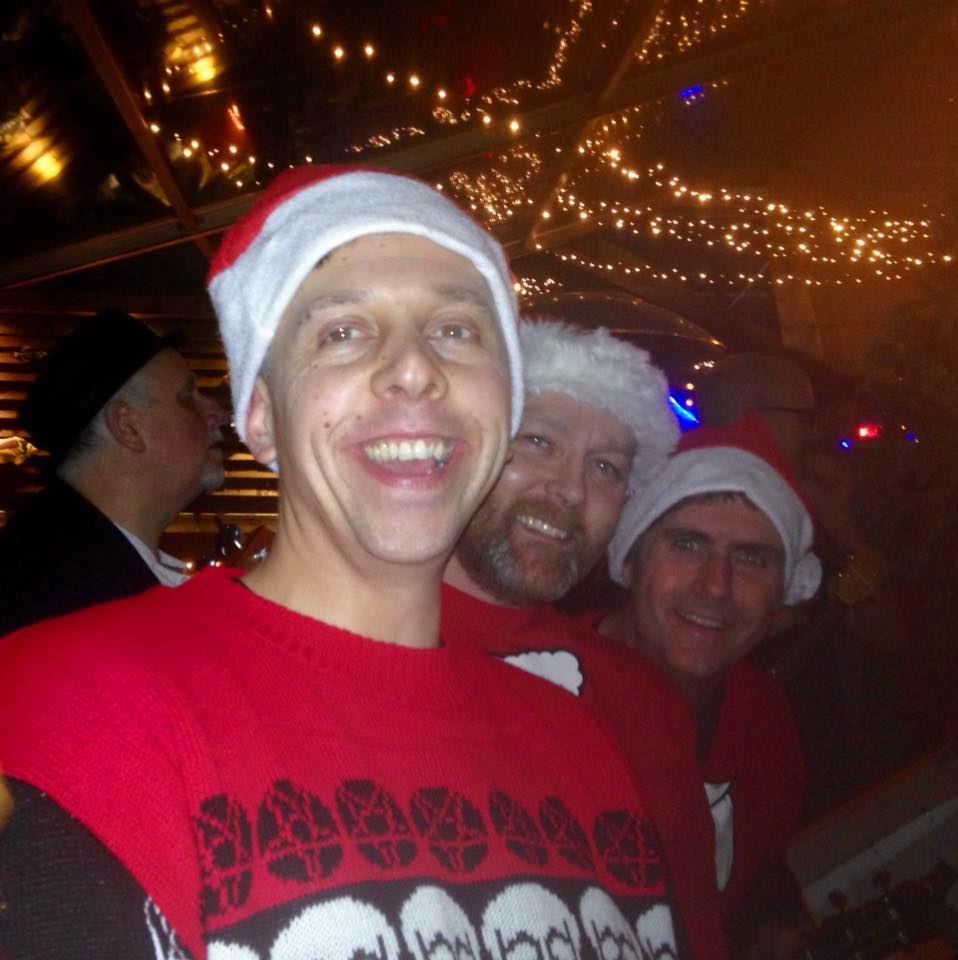 I heard the strumming of Smiths and Strokes songs in the shed and I couldn't believe what a great and frankly beautiful idea that was, and that I'd be allowed to join in, for free, just for fun. I got myself a uke that Christmas, and since then every other Thursday as long as my kids or my wife don't need me, I'm there. The first night, I remember people's small acts of kindness, my absolute joy to have a reason, an opportunity, an excuse, to strum and sing again, and also no one really being too fussed if I was there or not, which was the perfect combination.
4) What keeps you coming back to Moselele?
Singing along with everyone to a song I like is brilliant. Also when there's a daft song I wouldn't usually like but it's just so much fun to play. Also when a song has weird pervy lyrics and we're all singing them going "what the fuck?!!"
5) What's your favourite Moselele song?
There are loads, but the first that comes to mind is "Back for Good" by Take That! I remember hating it when it came out in the nineties, but it was just everywhere so I know it really well. I think I'm just kind of laughing at the universe laughing at me when we play it. If 14-year-old Dave could see 40-year-old Dave singing Take That with a shed full of strangers all playing tiny guitars he would have freaked the fuck out. But 40-year-old Dave has a lot more fun.
Of course people aren't strangers any more; Moselele is a really good group. It's been nice to see all the new faces recently. I hope they get as much out of it as I do.
6) What's your usual Moselele tipple?
Beavertown Neck Oil. That's quite a boring answer but I'm not sure really how to embellish it. Perhaps I should suggest a themed night called "Sloeselele", where we all drink the unnervingly homemade-looking sloe gin that was on the bar the other week?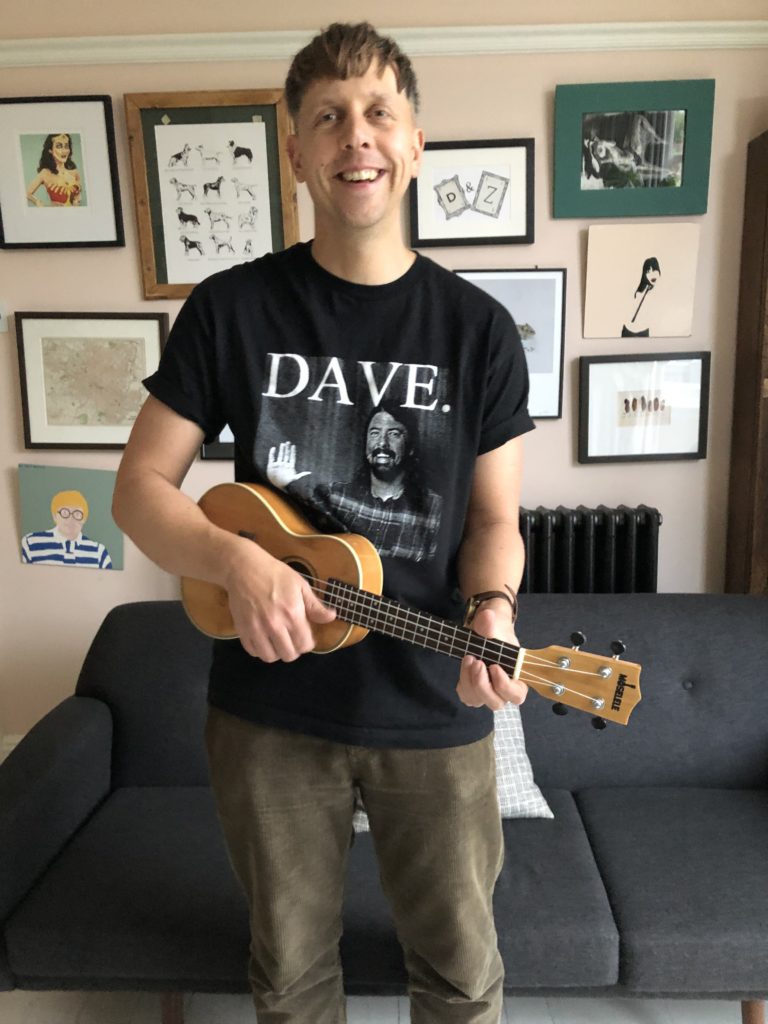 7) Do you practise at home? (What do your family/housemates/pets think?)
Sometimes I play "Old Macdonald had a Farm" with my two young daughters, does that count? They enjoy it for a few minutes but it quite quickly becomes distasteful to them.
8) What's your favourite Moselele story/memory (so far)?
When two very drunk middle-aged men burst through the doors and one announced in a broad American drawl that they were from New Jersey and on a heavy metal tour of the Black Country. They stood by the door and sang and swayed precariously to Mr Blue Sky, and then one of them kind of… belched… which didn't worry me too much, but people sort of started going "get out! Get out NOW!" And then it turned into "he's gonna be sick!!", "he's gonna be sick on us"!!! The look of fear and shame in that man's eyes as he backed out of the room, like an unmasked villain in Scooby Doo, has stayed with me ever since. I have observed these gents in the Prince on several occasions since, and they're as Brummie as they come.
Also as I type this I've just got back from a Moselele night where a man was very intent on letting the whole group know about his relationship with Chesney Hawkes. He asked the group if we knew any of Chesney's songs and said he'd let Chesney know we played it. Daz said would he please let Chesney know that we don't know any Chesney Hawkes. The man then stated that Chesney's son loves the ukulele, and sleeps with his uke on his bed. Then we played Centrefold by J Geils Band.
9) What would you say to anyone thinking of joining?
Oh god, definitely come along. It's fucking awesome. Maybe try to learn two or three chords before you come – C, G and F or something – this means you'll be able to play along to a fair bit of the songs and it'll be a morale boost for you to continue to learn. No-one is looking at you, hardly anyone can hear you, so knock yourself out, it'll be shit hot. See you there.
10) Tell us a secret.
A while back I was having a really hard time, and strumming and singing at Moselele really helped me. I fucking appreciate that, thank you.
---
:'-)
I think we might have to do a follow-up to find out more about Carol Decker's pants and the ponytail. Weird that he didn't include photos of THAT.
Okaaaay! Who's up for answering these questions next, then? Any newbies want to indulge our nosiness? Email Emma with your answers to the above questions, or get in touch via Facebook messenger, Twitter, or …whatever.
Read previous Meet Moselele posts
Those we have loved and lost… and those who keep coming back for more. The crazy fools.
Meet Moselele: #25 – Bill G
Meet Moselele: #24 – Chris D
Meet Moselele: #23 – Ania M
Meet Moselele: #22 – Garry B
Meet Moselele: #21 – Katie C
Meet Moselele: #20 – Ian J
Meet Moselele: #19 – Peter H
Meet Moselele: #18 – Fiona C
Meet Moselele: #17 – Stephen P
Meet Moselele Takeover: #16 – Emma W
Meet Moselele: #15 – Sarah A
Meet Moselele: #14 – Tom H
Meet Moselele: #13 – Bob J
Meet Moselele: #12 – Conor C
Meet Moselele: #11 – Scott C
Meet Moselele: #10 – Paul P-D
Meet Moselele: #9 – Dave T
Meet Moselele: #8 – Lorna P
Meet Moselele: #7 – Phil B
Meet Moselele: #6 – Daz W
Meet Moselele: #5 – Mark S
Meet Moselele: #4 – Rhiannon D
Meet Moselele: #3 – John R
Meet Moselele: #2 – Ian E
Meet Moselele: #1 – Rob P