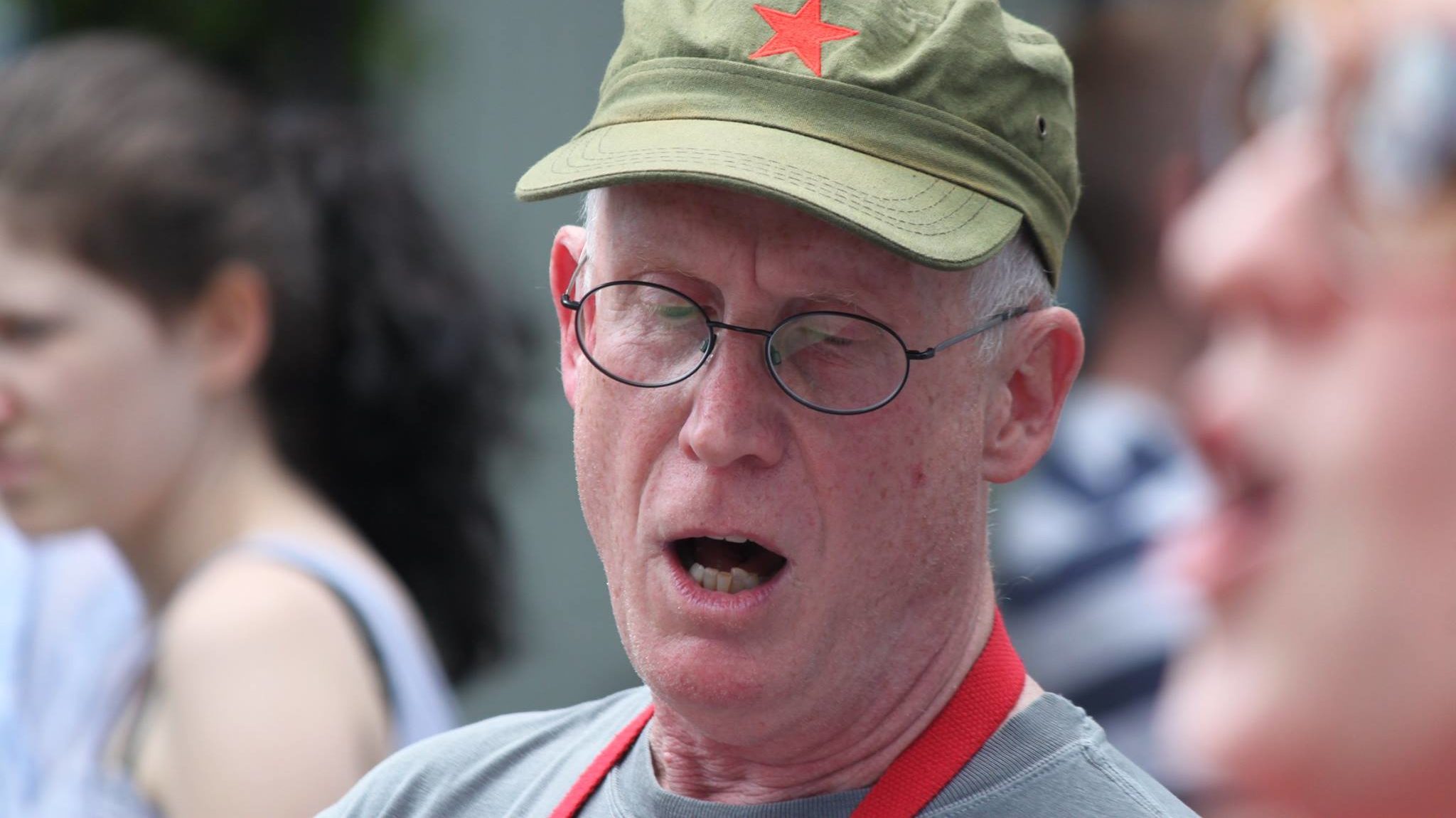 After a rather long hiatus (plague, anyone?) we're starting to get back into the swing of things – with some more Meet Moselele interviews. Yaaay.
This time, we meet another one of Moselele's many, many Daves. Yep – if you've ever wondered what an impulse buy in Bethnel Green might lead to, then wonder no more. It's Dave D!
---
1) Tell us how you started playing the ukulele. (How long ago? Did you play other instruments before?)
I bought a uke on a whim in Dukes of Uke in Bethnal Green in 2013. It was £15 and plastic. The man behind the counter showed me how effortless music making was going to be by demonstrating the C and G chords there and then. Plus it was purple. Nuff said.
2) What uke(s) do you play? (Have you made any adjustments/personalised it? Do you use a plectrum?)
I have ditched the purple job. (Phew –Ed) Having to retune before getting to the end of Common People did for me. I now have the soprano Bambookulele in matching gigbag donated by Daz. I have added living water strings which make a huge difference to sound quality except on Snowselele night when I could replace them with string for all the difference it would make.
3) Do you remember your first Moselele? (What prompted you to come along? What were your first impressions?)
I do remember – in the back room in the Prince before we were rehoused in the sauna shack/cantina. I'd heard about it via my daughter who worked behind the bar at the Prince. I sat next to Phil and John who were reassuringly friendly and er… old.
I was most struck by the playlist. (The peak of my interest in music was probably the 70s/late 60s). A Little Respect and Mr Brightside broke new ground for me. At the interval I talked to several people including Conor C and Ian E who both gave me the message that crap playing was no handicap and that if I actually wanted to improve at some point I should participate in some of the live gigs to terrify me into practising seriously.
4) What keeps you coming back to Moselele?
My bicycle. Actually that is part of the pleasure – cycling downhill to the Prince for a night I know I will enjoy.
The main attraction is the singing loudly and in a group but I also like mixing with such an eclectic bunch. My book group (by way of comparison) has an age range from 71 to 78.
5) What's your favourite Moselele song?
Either That's Not my Name because I like the multi-part singing and I can't imagine any other situation where I wouldn't feel ridiculous singing this song, or Wish You Were Here because I couldn't have imagined me still singing this song nearly fifty years after I first listened to it. I thought it was pretentious tosh in 1975, but then I couldn't play it on a ukulele…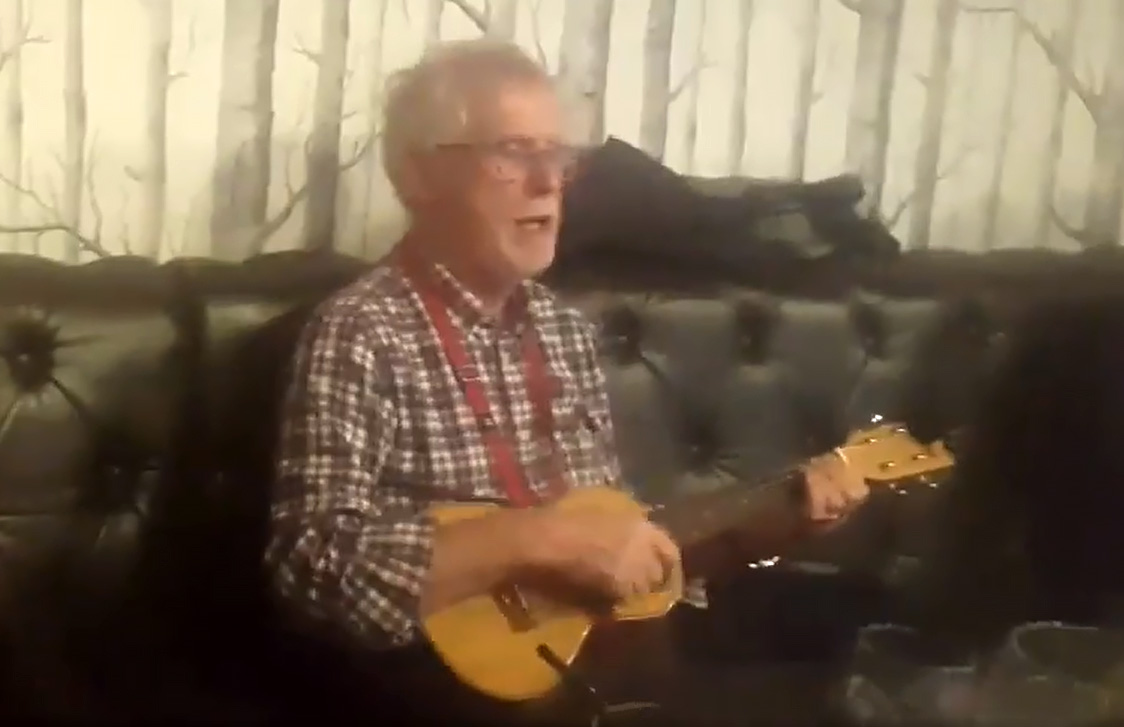 6) What's your usual Moselele tipple?
Timothy Taylor Landlord (two, usually)
7) Do you practise at home? (What do your family/housemates/pets think?)
I do but in private; my family prefer it that way.
8) What's your favourite Moselele story/memory (so far)?
The David Bowie night – the best conceivable way to mark his passing.
9) What would you say to anyone thinking of joining?
Do – don't even think about it.
10) Tell us a secret.
I keep bees on my allotment. In the interval at Moselele I usually talk to Will, also a beekeeper.
---
Wait, what? We have TWO apiarists in our ranks?!
Well, it's good to be back.
Been to Moselele more than twice? Fancy answering some questions? Email Emma with your answers to the above, or get in touch via Facebook messenger. Please include a pic – ideally of you at Moselele, or at least playing a uke!
Read previous Meet Moselele posts
Meet all the Moselelians (Moselel who have past and present…
Meet Moselele: #26 – Dave B
Meet Moselele: #25 – Bill G
Meet Moselele: #24 – Chris D
Meet Moselele: #23 – Ania M
Meet Moselele: #22 – Garry B
Meet Moselele: #21 – Katie C
Meet Moselele: #20 – Ian J
Meet Moselele: #19 – Peter H
Meet Moselele: #18 – Fiona C
Meet Moselele: #17 – Stephen P
Meet Moselele Takeover: #16 – Emma W
Meet Moselele: #15 – Sarah A
Meet Moselele: #14 – Tom H
Meet Moselele: #13 – Bob J
Meet Moselele: #12 – Conor C
Meet Moselele: #11 – Scott C
Meet Moselele: #10 – Paul P-D
Meet Moselele: #9 – Dave T
Meet Moselele: #8 – Lorna P
Meet Moselele: #7 – Phil B
Meet Moselele: #6 – Daz W
Meet Moselele: #5 – Mark S
Meet Moselele: #4 – Rhiannon D
Meet Moselele: #3 – John R
Meet Moselele: #2 – Ian E
Meet Moselele: #1 – Rob P